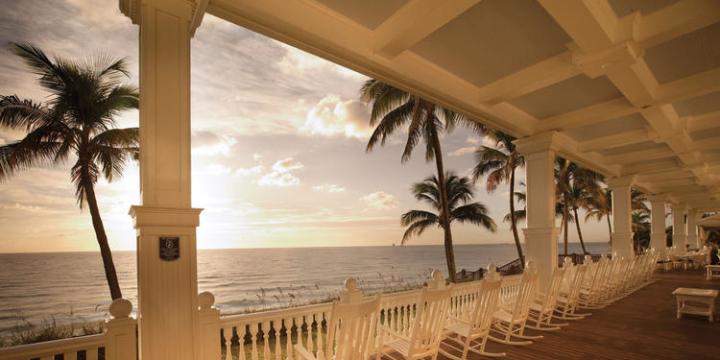 It doesn't really matter what time of the year you head to the beach in Fort Lauderdale. I can't think of any month that I have visited and not found State Road A1A (AKA Ocean Boulevard) to be one of the most entertaining beach strips in Florida.
In the morning its serpentine path is bathed in a sunrise glow as a brisk parade of fitness devotees — some in colorful form-fitting leggings, others in baggy khakis — welcome the morning breeze off the Atlantic Ocean. In the evening it offers up options of party central with crowded alfresco bars outlined in neon lights and packed with couples sipping frozen 45-ounce rainbow-hued concoctions from fishbowl glasses — with two straws, of course. Or it's a front row seat on The Ritz-Carlton's Burlock Coast patio where the night's sultry air and intoxicating drinks from its rum bar provide a totally different vibe.
This particular visit I'm excited because I am staying at one of the most beautiful resorts, one that I have admired for years. Its Victorian architecture, complete with corner turrets, and its pale yellow exterior, accented with fresh white trim, are stunningly elegant in a comforting Old Florida way. The Pelican Grand Beach Resort sits at the quieter north end of the stretch, making it the ideal anchor for a weekend of relaxation — with the option of a taking a five-minute cab ride (or walking) to the cluster of restaurants, bars, high-rise hotels and shops farther south.
Friday evening, the resort's O2K Lounge is jumping to the sounds of a guitar. The musician is switching between Spanish music with a Gipsy Kings flamenco style and the smoother sound of Brazil's bossa nova. The local crowd has arrived and the backslapping and laughter begin. Sitting among this jovial group, my friend and I order Dark 'n' Stormy cocktails, which the food and beverage manager Derek Schramm points out are made with Belvoir organic ginger beer that gives the rum drink its fiery flavor, and I have to agree its exceptionally tasty.
Of the resort's 156 units, 105 are suites with sitting areas and balconies that face the ocean. I open the balcony door and the sound of the waves greets me. Below, blue umbrellas and lounges dot the wide stretch of alabaster sand. With Fort Lauderdale's beach restoration project in progress, the resort's shore has been widened and is more inviting than ever.
Inside the room a wrought-iron bed with a thick cushy mattress rests against a wall of sea-washed wooden boards. Although it's a wall covering, it's so life-like that I reach to touch it before sinking into the king-size bed for a good night's rest.
The best part of staying on the Atlantic Ocean is being able to wake up with the sunrise and in the morning I scurry down to the verandah for prime seating. For me the front porch, which stretches almost the entire length of the building, looks as if it were plucked from a Southern mansion. It's the centerpiece of the resort. Here stately white rocking chairs are arranged facing the fireball as it breaks the horizon and plays peekaboo with cloud formations. Gently rocking, I strike up a conversation with folks from Chicago who tell me they come to the resort every year. Their children love the lazy river that complements the swimming pool.
Slipping into a good pair of walking shoes, my friend and I set out to power walk and discover what's happening on this famous strip. A white wall curves along the sidewalk separating us from the sand. I spy a fisherman casting a line into the surf, and then two divers in shiny black wet suits emerging from the water. They're carrying a conch shell and a lobster. When I inquire what they are doing they tell me that people pay a lot of money to get on the dive boats, but right here you can swim out to a drop-off point that's perfect for diving and viewing corals.
Continuing on we pass private homes boasting Mediterranean architecture before reaching Hugh Taylor Birch State Park. Inside the green swath of tropical hammock you can rent Segways and bicycles to explore the pathways.
A block or so down sits the Bonnet House Museum & Gardens, a landmark listed on the National Register of Historic Places. The property, hidden by thick foliage, belonged to Birch who gave it to his daughter Helen and her artist husband Frederic Clay Bartlett as a wedding gift in 1919. The house they built now serves as an art museum displaying paintings, sculptures and decorative items collected by Bartlett and his second wife.
We continue to power past a lot with a sign announcing the future home of the Four Seasons hotel and residences, the W Hotel and The Ritz-Carlton. Just beyond these high-end properties is a cluster of bikini shops overflowing with beach chairs and sand pails, and a mishmash of open-air bars and cafes.
When we reach Las Olas Boulevard, one of the main arteries connecting the barrier island to the mainland, we turn west then north to backtrack along the Intracoastal Waterway. It's time for a break and we poke into Coconuts, a restaurant known for its water-front tables where viewing the boat traffic is a favorite pastime. In fact, Coconuts is a water taxi stop, which explains the long lines of folks waiting for tables.
At the adjacent G&B Oyster Bar, we get lucky and find vacant stools. It just so happens that the drink of the day (every day) is the G&B Bloody Mary, made with Zing Zang and Tito's Handmade Vodka, then adorned with two plump green olives, a crisp green bean and lime wedge on a toothpick. The bartender swears the Zing Zang makes the difference.
Seems everyone is drinking the same thing, including the couple next to me. "Did you come by boat?" I ask them. Their reply: "How'd you know?" Well, I really didn't but with so many watercrafts docked along the Intracoastal, it seemed a logical question. Turns out the couple are from Michigan and have a home and boat in Fort Myers on the Gulf side of the state. Their captain brings the boat across the peninsula through Lake Okeechobee to Fort Lauderdale for them.
Back at the resort after spa treatments, we are glowing - and hungry. The Casablanca Café, midway down the strip, was recommended to us so we grab a cab. Tucked in an old mission-style house with a barrel-tile roof, the restaurant has a decorative fireplace and open windows that allow the cool night air to enter.
The Moroccan beef kabobs dish with roasted vegetables gets kicked up a notch with a spicy harissa yogurt sauce, and the Key West red snapper with caper basil butter is exactly what you want to order when dining near the sea. As we enjoy our meal we can hear the piano player singing "Saturday in the Park," and I can't help but think maybe it should be "Saturday on the Beach."
Plan Your Trip
Pelican Grand Beach Resort
2000 N. Ocean Blvd.
The 12-story property is known for its Old Florida grandeur and seaside elegance, from the lobby's pecky cypress ceilings adorned with leaf-shaped paddle fans to winged rattan chairs and polished pianos.
Pure Spa
Pelican Grand Beach Resort
Floor-to-ceiling windows overlooking the vast Atlantic provide a breathtaking view for spa-goers who are treated to Swedish massages and facials with Maria Akerberg's organic products.
2000 Ocean
Pelican Grand Beach Resort
Toes-in-the-sand dining means tables on sand dunes under a starry sky and chef Michael Bloise's blue crab cakes and snapper with brown sugar soy sauce.
Water Taxi
With 20 stops along the Intracoastal Waterway and New River, the taxi makes it easy to travel to downtown Fort Lauderdale for lunch and shopping or just sightsee all the way to Hollywood.
Bonnet House Museum & Gardens
900 N. Birch Road
Set on a lawn studded with royal palms, the historic two-story yellow house is embellished with courtyards, aviaries and fountains.It's also home to an orchid house.