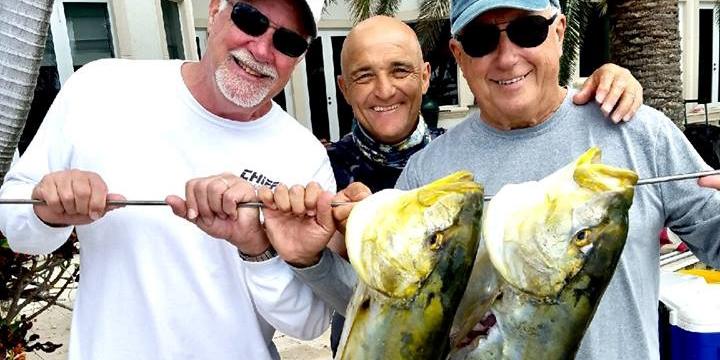 Underwater Report
8am-outside air temp-69 degrees warmed to 82 by mid-day. The water temperature is 75 degrees and we had 40-foot of visibility with a gentle south current.
Vessel & Crew
Private vessel-Sand Diver (39' Yellowfin with triple 300hp Yamahas)
Crew-Tom Campbell, Carmine Dilorenzo, Ken Udell and myself. Bruce Paul drove the boat.
Dive, Dive, Dive
Underwater hunting is very limited during the month of April. Spiny lobster season just closed on March 31st and we still must wait until May 1st when grouper and hogfish season will reopen.
Also, our diving changes as we are now higher off the reef, instead of being closer to the reef looking for lobster. We are targeting snapper, yellow jack and even cobia this time of year, so our diving is primarily on areas of reef structure. This usually means the third reef, which is located less then a mile off the beaches and have west facing walls with depths of 50-feet at the top, dropping to the sand in 65-feet of water.
Tom and I buddied this day and we were hunting together in an area off Lauderdale-by-the-sea on the third reef. Tom was on top of the wall and I was parallel to him along the sand. As we had a south current, I was west of Tom. The advantage of diving side-by-side is you can see what your buddy is doing. Underwater hunting is best done where you have visual contact with your buddy. 
Out of the corner of my eye I caught a glimpse of Tom getting in the shooting position which means he was extending his speargun and he was chasing something. I did witness his shot; however, I couldn't tell what he was targeting. Then two nice sized yellow jacks came over the edge of the wall towards me but then turned under a ledge in the wall. As I looked under the ledge, both fish had been landed by Tom's single spear and were attached together from the line of his speargun. I controlled the fish, getting them onto lift bags to send them to the surface. Tom was reeling in his line from his gun and looked bewildered as he approached and realized he had speared both fish.
The story continued after we surfaced, reviewing the efficiency of landing both fish with one shot. I had to give him the "King of the Reef" designation after witnessing his shooting skills although he admitted he wasn't aiming for both fish. Sometimes it's better to be lucky then good…