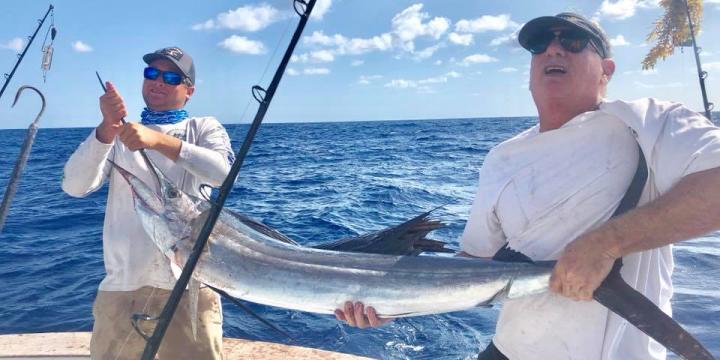 Above Water Report
8am-outside air temp-73 degrees warmed to 81 by mid-day. The wind was 12 knots out of the east making the seas 2-3 feet.
Vessel & Crew
Charter Fishing Vessel-BOLO- The original BOLO is a legend. A teak and mahogany, fully customized 42′ Whiticar sportfishing charter boat docked at the Two George's at the Cove Marina in Deerfield Beach
Crew-Tom Campbell, John Strunk, Kamal Peters, Andrew Rubin, Carl Pennick and myself. 
Fish, Fish, Fish
Underwater hunting during the month of April is slow as spiny lobster season is closed as well as grouper and hogfish…so, the Chiefy crew decided to do a traditional fishing trip with rods and reels. Usually we are under the water, however, todays adventure was strictly above the water.
BOLO makes it easy to charter, as the cost of $99 for a half day charter makes it affordable. In our case, we were able to charter the entire boat with the six of us. Even though it was Friday the thirteenth, we were ready for some deep-sea fishing.
We left the dock before 7am and headed south, venturing into the ocean at the Hillsboro Inlet. We headed east, under the direction of Captain Paul, and within a very short period, we were in a few hundred feet of water.
Kamal started the action with reeling in a kingfish, followed by John landing a barracuda. But the highlight was Andy fighting a sailfish, who jumped at least a dozen times, and after pictures, was released unharmed back in the ocean.
We trolled north, ending our day by coming in the Boca Inlet, and returning to the Cove Marina in Deerfield Beach. It was a fun day to mix it up above the water and we didn't even have to rinse off our dive gear.