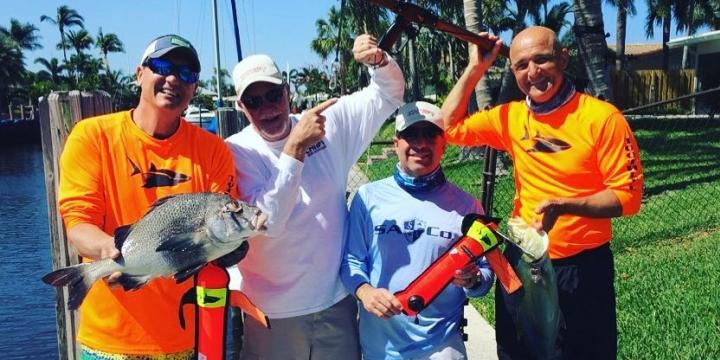 Underwater Report
8am-outside air temperature - 64 degrees, warming to 80 degrees by 10am. A 12 mph west-northwest wind, 77-degree water temperature with one-foot seas, a mild north current and visibility of 40 feet.
Vessel & Crew
Private vessel-Chiefy (29' Sea Vee with twin 300 hp Mercury Verados)
Crew-Ken Udell, Carmine Dilorenzo, Mike Rega and myself.
Dive, Dive, Dive
Today was an opportunity to dive with a west coast (Florida) buddy, Captain Mike Rega. He lives in the Sarasota area and has a dive charter business, but I wanted to show him the outstanding diving we have in the Greater Fort Lauderdale area.  He has also developed a product for spearfisherman called Toothless lift bags. www.toothlesslife.com This is a lift bag system sending your fish to the surface to avoid predators. It's a well-made product, however there are differences to diving and spearfishing on this coast versus the west coast. Today was getting him to understand the differences, as he's working on an "East Coast" model of his system.
I gave a briefing to Mike before we jumped in on the third reef just north of the Deerfield Beach International Fishing pier. I explained that we don't really see a lot of sharks, however, we weren't in the water five minutes and a nice ten-foot hammerhead shark swims right between us. I'm not sure Mike could see the smile on my face and me laughing underwater.
Probably the biggest difference in diving here is the proximity and varying depths of our reefs. We have a three-reef system allowing for everything from snorkeling to technical diving. On the west coast, they have very shallow depths for long distances offshore.  You can go fifty miles in the Gulf of Mexico and still be in only fifty feet of water. They're reefs aren't continuous but have a great number of ledges and smaller structure.
While our visibility is a consistent thirty-feet, theirs is only thirty-feet on a good day.
They don't have any spiny lobster on they're reefs, so we get a lot of divers coming here when it's spiny lobster season. They do see and spear a lot of fish as there's not as many divers in such a large area of water.
Today was fun showing our west coast buddy the east coast diving. The proximity of our reefs and abundant marine life makes this area great for diving and underwater hunting. We ended up with only a few fish but enjoyed getting back quickly from an awesome day of diving.