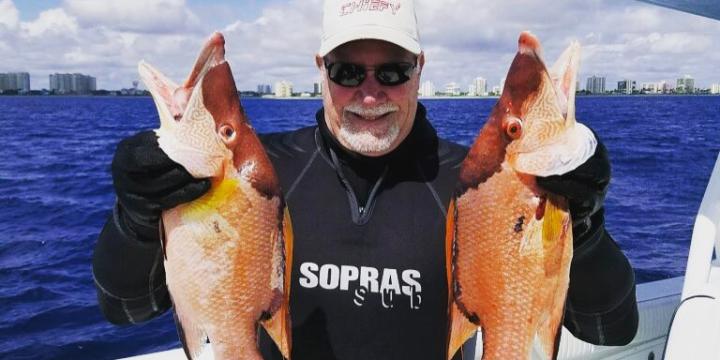 Underwater Report
8am-outside air temp-68 degrees, warmed to 84 degrees, with a gentle breeze out of the west. This was probably the last "cool front" for south Florida as we had some rain yesterday bringing in absolutely beautiful weather today.
77-degree water temp with one foot waves and a mild south current giving us over 60' visibility.
Vessel & Crew
Private vessel-Sand Diver (39' Yellowfin with triple 300hp Yamahas)
Crew-Tom Campbell, Lance Van Schaik, Chuck Van Buskirk, and myself with Ed Thompson driving. All of us are members of the South Florida Spearfishing Club.
Dive, Dive, Dive
We left the dock in Lighthouse Point around 8:30am and headed out of the Hillsboro Inlet. My dive buddy today was Chuck, with Tom and Lance diving together. Ed drove the boat, allowing the two groups of divers to go in at the same time, making it a much shorter day.
Chuck and I were dropped on the third reef and speared a few fish including three nice sized hogfish and a yellow Jack. Tom and Lance were dropped a little deeper in 70' of water but didn't get any fish.
Our second dive was along the third reef with Chuck and I doing the smaller reef to the west of the wall. We passed Tom and Lance as they were diving along the wall.
It is turtle season, so we saw several different turtles including a loggerhead and a green. They're usually just sitting on the reef and we try not to disturb them as they are getting ready or may have deposited their eggs on our sandy beaches. Observing turtles while underwater gives divers another unique opportunity during a visit to the Greater Fort Lauderdale area.
The diving today reminded us why we live here. Reefs are very accessible to the shore and minutes away from the inlet. The south current and great visibility added to the ability to get some nice fresh fish and see some turtles today. As we like to say, "today was just another day in paradise."