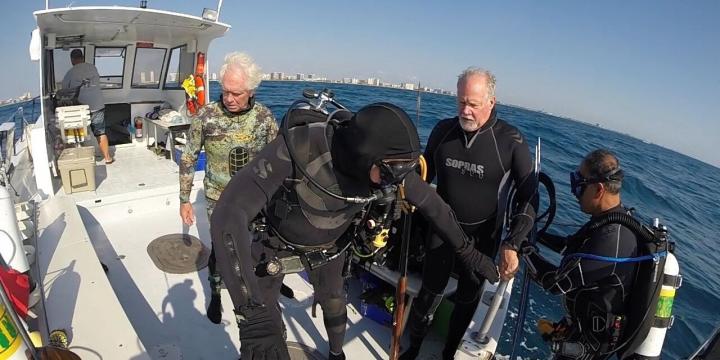 South Florida Diving Headquarters Jeff Torode really took care of the Chiefy Crew today. He arranged to have Captain Bradley Williams take the five of us out on the Safari Diver. The Chiefy Crew of Kamal Peters, Chuck Van Buskirk, Andrew Rubin, John Strunk and myself were very comfortable on the boat that normally has up to 11 divers. SFDH is based at the Sands Harbor Marina and Restaurant at 125 North Riverside Drive in Pompano Beach. Considering it's the end of spiny lobster season, it's spearing fish for the crew.
It's a brief ride north on the Intracoastal Waterway toward the Hillsboro Inlet and then directly to the Atlantic Ocean. Captain Williams lived up to the saying "it's all about the drop," putting the Chiefy Crew on the fish spots. Kamal, John and Andy dropped in on the Qualman Tugs, an artificial reef in 75 feet of water. Chuck and I were put in a west facing wall on the third reef, with the top of the reef at 50'.
The second dive was a reef in 75' for the first three and Chuck and I did another wall but this was directly off the Pompano Pier. Total catch for the day were three Yellow Jacks, three Mutton Snappers and one hogfish. Not bad for 40' of visibility and a mild north current.
Upon returning to the dock, we filleted our catch at the on-site table and delivered it to Sands Restaurant Manager John Paul Lacrosse who had Chef Thomas prepare it. First up was the Yellow Jack sashimi style and then the mutton snapper prepared three ways: blackened, fried and grilled. The hogfish was gently sautéed to keep the flavors rich for this delightful dish. Server Tyler Traster keep the adult beverages full and the entrees coming as the Chiefy Crew and Captain Bradley enjoyed the tastes of fresh fish gotten off the waters of the Greater Fort Lauderdale area. Another great reason to dive in our great coastal community.