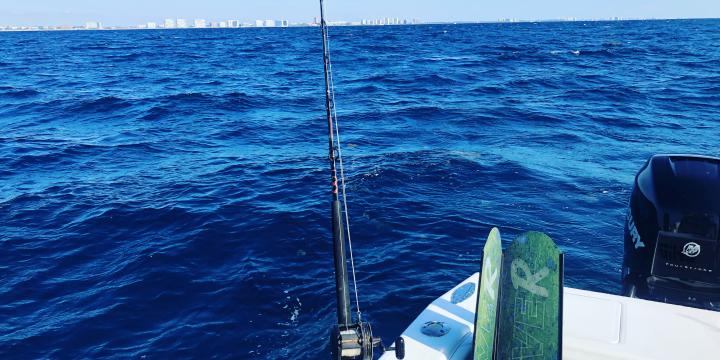 Underwater Report
8am-outside air temperature - 69 degrees, warming to 86 degrees by 10am. A very light west-northwest wind, 77-degree water temperature with one-foot seas, a mild north current and visibility of 100 feet, but you can't see the bottom in Bluewater hunting.
Vessel & Crew
Private vessel-Chiefy (29' Sea Vee with twin 300 hp Mercury Verados)
Crew-Farrell Tiller, Anthony Planas, Jack Harari and myself.
Dive, Dive, Dive
The reef spearfishing in April is very limited as we must wait until May 1st for Hogfish and Grouper season to open. I've been waiting for an opportunity to try Blue Water hunting, so today was the day!
The beauty of diving in the Greater Fort Lauderdale area is the Gulfstream current comes within a few miles of our coast, bringing pelagic fish and all sorts of marine life. The prevailing current is north as we headed out east to find some weed line which will usually have small baitfish. Our strategy was to troll some rigged ballyhoo baits on rod and reels to catch a mahi and then jump in to spear a few more. As it turned out the only fish we caught was a barracuda, and we don't eat those fish, but used it for bait and chum.  
However, at 700 feet of water, approximately seven miles offshore, we found a weed line that looked like a good location to hunt. Farrell and Anthony have been involved with the Florida Atlantic University Freediving and Spearfishing Club, so they took the led on this new Chiefy adventure. The water was a brilliant blue color with probably one-hundred feet of visibility, but you can't see the bottom. Surprisingly, I was very comfortable snorkeling at the surface, looking for fish.
They deployed a float with "flashers" on it, which is designed to attract fish, and even our use of chum didn't bring anything to the surface. It was a very cool experience just floating around with a mask, snorkel and fins. I'm not ready to freedive below the surface yet as that will take some training. I did remind them I learned to dive 30-plus years ago in the Bahamas, but we called it skin diving. With some basic instruction, I could get to twenty feet below the surface back then, however, the sport has changed greatly in the past few years. There is much more training needed to be proficient in the sport of freediving today.  
We headed back to the inlet knowing we would do this again. Bluewater hunting in the Greater Fort Lauderdale area is another reason to "Dive It All."