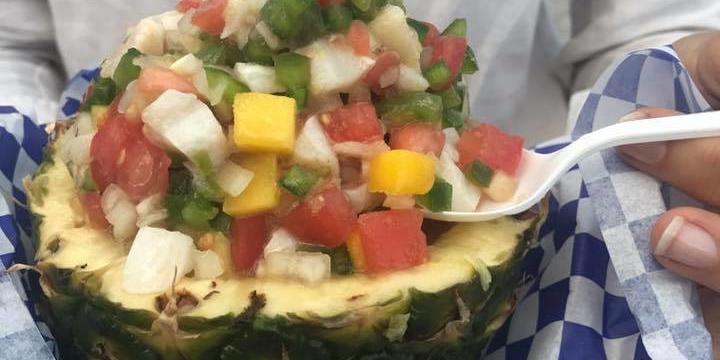 Eating fresh seafood only steps away from the white, sandy beach while rocking to music from three stages makes the Pompano Seafood Festival a unique event in the Greater Fort Lauderdale area. In its 33rd year, the festival is one of South Florida's longest running outdoor events. The headliner act this year was America, scheduled for Saturday night, along with 30 other bands scheduled throughout the three-day weekend. Besides the wide variety of seafood available and musical acts, there were over 150 vendors selling everything from art and jewelry to clothing.
Chiefy Crew members Ken and Lissa Udell, along with Andy Rubin and myself, attended the festival on Friday evening. Parking couldn't have been more convenient than using the 600 space recently constructed public parking garage at the north entrance of the festival.
The first order of business was grabbing an adult beverage from the many non-profit booths along the way. According to Festival Manager John Good, this event is also a fundraiser for over ten community groups involved with the event. It was a nice crowd as the easterly breeze keep the temperature mild and the humidity low. Not a drop of rain the entire weekend made this a perfect event.
But our mission was to find SEAFOOD!!! And we decided on an assortment including huge grilled crab cakes direct from Maryland and even sampled some of Mick's Gourmet Soups from Florida. However, we all agreed the best was Lighthouse Point's Papa's Raw Bar Seafood Vinaigrette. Served cold and freshly made with conch, crawfish tail meat, shrimp, tomatoes, onions, celery and olives. What an explosion of flavors mixed together to tantalize our taste buds.
A very close second was from the Conch Shack. The Cracked Conch (lightly fried) was devoured in a few minutes and what a delight. The key was the conch was tenderized and the batter not over done, making this dish a pleasant surprise for the Chiefy crew. Conch is not available in our South Florida waters, but this was obviously fresh from the Bahamas and they knew the proper way to prepare this delicacy.
Great seafood steps away from the beach with friends in a relaxing atmosphere made for another memorable weekend in the Greater Fort Lauderdale area.