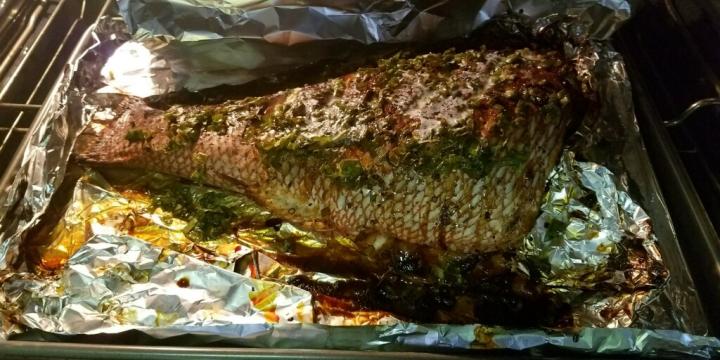 Underwater Report
8am-outside air temperature - 72 degrees, warming to 80 degrees by 10am. A 10-knot east wind, resulted in two-three foot waves, making it a little bumpy but still a good day to dive in South Florida. 77-degree water temperature with a moderate north current and visibility around 30 feet.
Vessel & Crew
Private vessel-Chiefy (29' Sea Vee with twin Mercury Verados)
Crew-Chuck Van Buskirk, Chris Magon and myself with Bruce Paul driving
Dive, Dive, Dive
The end of spiny lobster season on March 31 signals it's time to put away the tickle sticks, nets, snares and bags. It's now time to spear some fish.
As an underwater hunter, having just a speargun makes diving a little less complicated and the strategy changes. Hunting for lobster requires you to be close to the reef, as opposed to spearfishing, involving you drifting high off the reef. Spearfishing on SCUBA is allowed in Florida but the noise creates a challenge, sometimes scaring the fish. Staying high while SCUBA diving limits the noise and allows you to visualize fish from a longer distance.
On this day, having Bruce as our driver allowed all three of us to drift dive together. Our first dive was at the Ancient Mariner wreck, located in 65 feet of water near Hillsboro Beach. The north current limited us the ability to stay on the wreck but allowed us to drift to the third reef. We didn't spear any fish on that dive but because turtle season has started, we saw a few loggerheads and even a green turtle. The females will make their way to our white sandy beaches to deposit their eggs, so there's frequent above and below water sightings of turtles this time of year.
Our second dive was on Fricks reef, just south of the Deerfield Beach fishing pier. It's a west facing wall about 50' on top and 65' to the sandy bottom. This is where Chuck spotted a nice size Mutton Snapper in the sand and successfully speared it. 
Mutton Snapper has a nice texture to its filet and a very good flavor, it's considered the better tasting of all snapper. It does have a blood line in the middle of the filet but Chuck scaled it, removed the head and gills at the dock. Chucks neighbors baked it with an assortment of spices, cooking the fish whole.
There's nothing better than fresh Mutton Snapper gotten off the reefs. Having Chuck's neighbors cook the fish added to the enjoyment of spearfishing in the Greater Fort Lauderdale area.