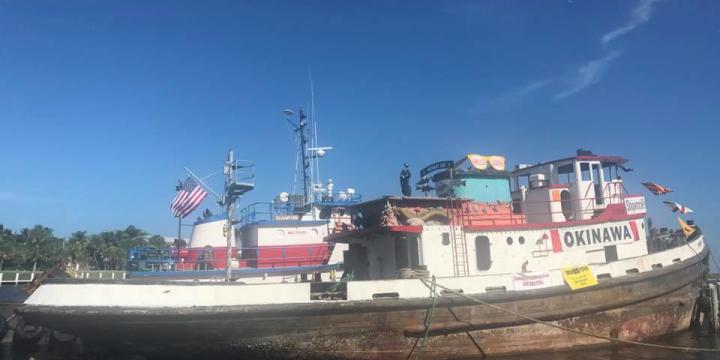 The City of Pompano Beach knows how to throw a party and the public was even invited! Held at the Hillsboro Inlet park, the event was to celebrate the sinking of the Okinawa, a 107-foot tugboat to become part of the Shipwreck Park in Pompano Beach. The Okinawa was towed to the Hillsboro Inlet after being cleaned and readied for the sinking as another artificial reef. Hosting the party on this Friday night allowed the public to view the vessel prior to its sinking the next day.
Making the Okinawa memorable and allowing it to serve as an attraction was the creation of a "Dive Bar" theme complete with a mermaid and several sea creatures. The art work and sculpture were created by Pompano Beach resident Dennis MacDonald, who previously had fashioned the casino art on the Lady Luck wreck and Rapa Nui on a barge off Deerfield Beach.
This wreck is to be placed directly off the Pompano Beach pier in 65-feet of water, allowing accessibility by all levels of divers to visit. Its location will be between the second and third reef and less than one-half mile off the white sandy beaches of Pompano. There are many other wrecks in this area as Pompano Beach has a history of sinking them during the Annual Pompano Beach Seafood Festival.
By creating Shipwreck Park as a non-profit, 501c3, the Okinawa is part of Pompano Beach's effort to improve the economic development in the area "dedicated to the creation of an underwater park system establishing artificial reefs, utilizing public art to raise awareness of the need to preserve and conserve our natural coral reef system."
Attending the festivities were many officials from the area including Broward County Commissioner Chip LaMarca, Pompano Beach Mayor Lamar Fisher, Pompano Beach Chamber of Commerce Ric Green, Shipwreck Park Foundation Board of Directors Chairman Rob Wyre and South Florida Diving Headquarters Jeff Torode. In addition, the Greater Fort Lauderdale Convention & Visitors Bureau www.sunny.org had a large group supporting this event.
There were many Dive "Celebrities" also attending including Billy and Mitch from ScubaNation, the Fox Sports TV show, Neal Watson, known as the "Dive God" and even Greg the Divemaster of Scuba Radio.
Note: The Okinawa successfully sank the following day and is presently upright and ready for divers to enjoy a visit to the best "Dive Bar" in the area.