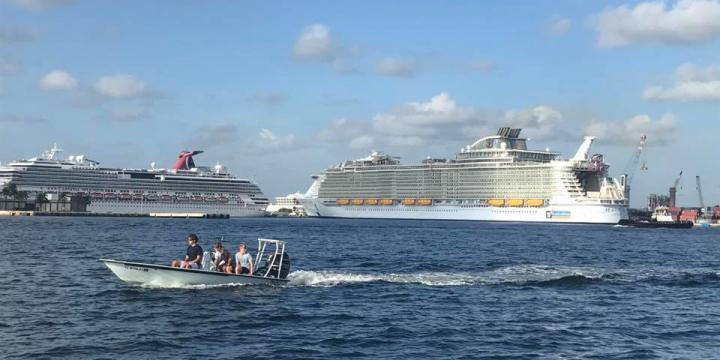 Underwater Report
8am-outside air temp-84 degrees, warmed to 93 degrees, mainly sunny with scattered clouds with a mild easterly wind. For most of the day it remained sunny and pleasant.
84-degree water temp with seas of two-three feet and a gentle north current with the normal 30-foot visibility and excellent conditions.
Vessel & Crew
Private vessel-Getaway (33' Hydro-Sport with triple 250hp Yamahas)
Crew-Jack, Andy, Chuck, John and myself-all members of the Chiefy Crew on Jacks boat.
Dive, Dive, Dive
Jack lives in Fort Lauderdale which allows us the opportunity to dive south of Port Everglades to areas including Hollywood, Dania and Hallandale Beach. It's always a great ride going and coming into the inlet and seeing the large yachts, freighters and cruise ships at the Port. The diving is outstanding with the same three reef system found throughout the Greater Fort Lauderdale area.
Andy and I jumped in on a spot with many coral heads, some 10 to 50 feet around. As we were drifting north, we both noticed a smaller coral head with two snappers nearby but they swam inside the coral head as we drifted closer to them. Andy and I approached the opening and looked inside, but couldn't locate them. Knowing they were still inside, we silted up the sand outside of the opening and waited for them to reappear. With a little patience, and setting up a short distance in front of the opening, the biggest one appeared and I speared it. Andy, set up in the exact spot and waited for the second fish and sure enough, it too appeared and Andy landed a nice shot. Two nice sized snappers in one hole made for a great spearfishing story.
The day was spent mainly on the second reef in 35 to 40 feet of water and we ended up with a nice assortment of lobster, hogfish and snapper. The diving was highlighted by coming back into Port Everglades with a nice catch on a beautiful summer day.