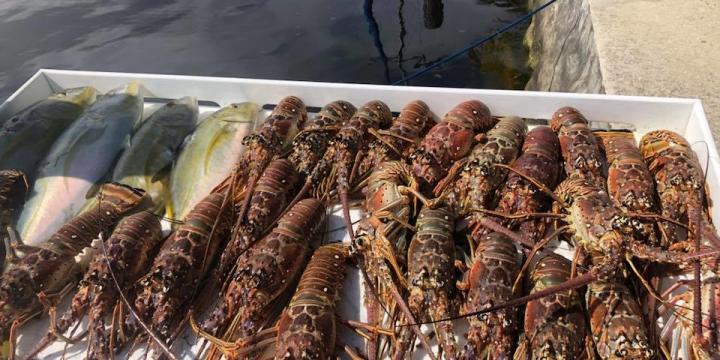 Underwater Report
8am-outside air temperature – 84 degrees, warming to 91 degrees by 10am. 84-degree water temperature with an east breeze, 2-3- foot seas, a mild north current and visibility of 40-plus feet on the reef.
Vessel & Crew
Private vessel-Chiefy (29' Sea Vee with twin 300 hp Mercury Verados)
Crew-Chuck Van Buskirk, Andy Rubin, Ken Udell and myself.
Dive, Dive, Dive
We've experienced a great spiny lobster season so far and we were hoping today proved successful as well. We headed out the Hillsboro Inlet and dove in the 45-feet reef north of the Pompano Beach Fishing Pier. This area has a lot of ledges and overhangs, making it a great spot for lobster. It's what we refer to as the top of the second reef and this time of year the lobsters seem to be in these shallow areas. We had a gentle north current making it possible to travel east and west underwater looking for good habitat for lobster.
Chuck and Ken dove together as Andy and I drove the boat and followed the dive flag as we drifted north along the reef. They both surfaced with their limit of six lobster each and then Andy and I continued along the same reef and got our limit.
Our second dives were along the third reef where there is potential for fish as the structure of the reef has west facing walls from 50-feet at the top to 65-feet to the bottom. We ended up landing four nice sized yellow jacks and they are great tasting fish. I personally like them prepared sashimi style that same day or sautéed with a little olive oil and garlic. Yellow Jack has a similar texture and flavor of snapper.
Returning after our limit of spiny lobster and some nice yellow Jack, we knew we would be eating well this evening. And we were able to stay within a mile of the Hillsboro Inlet. The great part of diving in the Greater Fort Lauderdale area is our ability to travel very quickly to our destination and grab great tasting seafood.