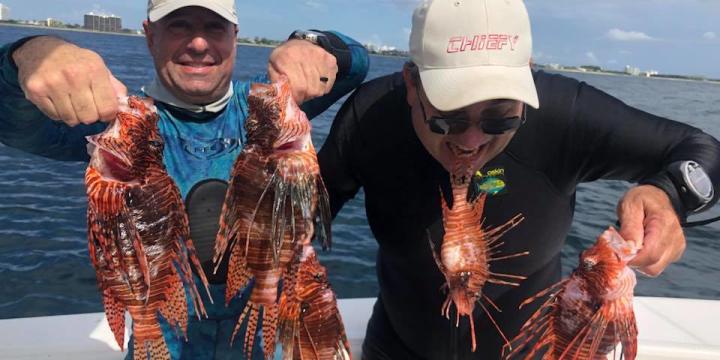 Underwater Report
8am-outside air temperature – 80 degrees, warming to 87 degrees by 10am. 84-degree water temperature with a 10-mph east breeze, 2-3- foot seas, a mild north current and visibility of 40-plus feet on the reef.
Vessel & Crew
Private vessel-Chiefy (29' Sea Vee with twin 300 hp Mercury Verados)
Crew-Kelly Johnson, Charley Schram, Ken Udell and myself.
Dive, Dive, Dive
Today was an exciting day for the Chiefy Crew as we were participating in the 1st Annual Pompano Lionfish Derby organized to benefit Shipwreck Park. Pompano Beach has a rich history of sinking wrecks to provide artificial reefs, and the event was to raise money for the sinking of another wreck. As participants, we would donate our lionfish and a variety of area restaurants would cook them this evening at the historic Sample-McDougal House in Pompano.
Chiefy Team One consisted of Kelly and myself and we jumped into an area I had scouted last week. This was on the top of the third reef in an area north of the Deerfield Beach International Fishing pier. It has a lot of caves and crevices, and we found a very large lionfish, however, after sticking it with the pole spear, it ripped off and found its way to the very back of the cave. Sorry to say, it would have been a qualifying fish for the biggest.
We were able to harvest a few more and place them in our ZooKeeper ® which was provided to me by owner and founder Allie ElHage. These are perfect for collecting lionfish as they have a puncture-proof rigid tube with a one-way entrance. The idea is after you successfully hit the lionfish with your tri-tip pole spear you simply place it in the ZooKeeper ® without having to touch the lionfish.
Chiefy Team Two consisted of Ken and Charley, with Charley having the most experience of harvesting lionfish. They were in 90-100 feet of water along an edge of the reef and found some lionfish including a big one. As it turned out, it measured 16.92 inches, and was the largest lionfish collected by a private boat.
After checking in our lionfish, we attended the lionfish tasting event where the Chiefy Two Team collected their $300 prize. This was a great event highlighting the removal of 256 lionfish by 57 divers and 9 restaurants participating in the cooking portion. There is no doubt the Chiefy Crew will be back next year for the 2nd Annual Pompano Lionfish Derby to defend their title of capturing the Largest Lionfish.