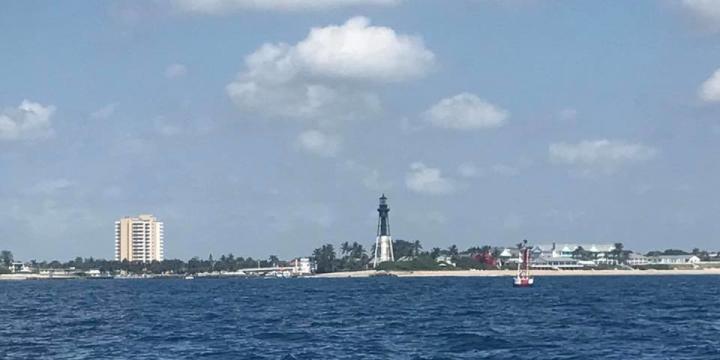 Underwater Report
8am-outside air temperature - 82 degrees, warming to 93 degrees by 10am. 82-degree water temperature with one-to-two-foot waves, a very mild north current and visibility of 40 feet.
Vessel & Crew
Private vessel-Chiefy (29' Sea Vee with twin 300 hp Mercury Verados)
Crew- Joey Baleda, Andy Rubin, Carmine DiLorenzo, and myself.
Dive, Dive, Dive
The BIG change for today was the new State of Florida regulations for Hogfish, starting on September 24th. Previously, the regulations were a minimum size of 12", measured to the fork, a limit of five fish-per-person and harvesting all year long. The new regulations changed the minimum size to 16", with only one fish-per-person and a season from May 1st to October 31st. This is a big change but they have been overfished and the State has changed these regulations to rebuild the stock. All hogfish start their lives as females and then change to males as the environment demands them. This typically occurs around 15 inches, but because they have been overfished, we're seeing males at 12 inches.
Hogfish is known for their mild texture, pure white filet and great taste. They are relatively easy targets for spearfisherman but not a lot caught by hook and line. The federal regulations changed so the state decided to mirror them as to not create a lot of confusion. In the Greater Fort Lauderdale area, the federal waters start at three miles off shore but Scuba diving there is too deep, so we really focus on the state regulations.
In my book Catching the Spear-it! The ABC's of Spearfishing, I use the three R's as a great way to remember the proper elements to land a fish. The number one R is Fish Recognition, and hogfish are relatively easy to distinguish due to their striking colors and profile. Males have a distinct brown strip down their elongated snoots, making them stand out in the water. The second R is Fish Regulation, so adjusting from a 12-inch size to 16-inches takes some retraining, as everything looks bigger underwater. The third R is range, and this depends on the speargun or device you're using.
Today was a mixed bag of hogfish, red grouper, Spanish mackerel and some spiny lobster. We ventured out the Hillsboro Inlet and primarily dove Pompano, Hillsboro and Deerfield Beach. The conditions were ideal above and below the surface with great summertime diving in the Greater Fort Lauderdale area. Even with the new regulations we can still enjoy a great tasting hogfish, we just have to adapt to the changes.