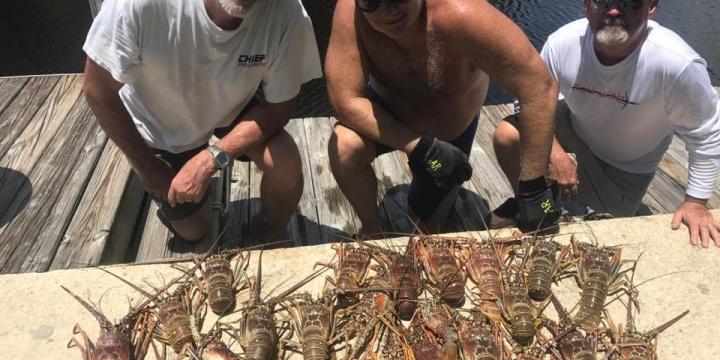 Underwater Report
8am-outside air temperature - 82 degrees, warming to 93 degrees by 10am.
86-degree water temperature with two-to-four-foot waves, a very mild north current and visibility of 40 feet.
Vessel & Crew
Private vessel-Chiefy (29' Sea Vee with twin Mercury Verados)
Crew- Andrew Rubin, Chuck Van Buskirk, Roger Soles and myself.
Dive, Dive, Dive
Opening Day of Spiny Lobster season is always on August 6 and probably should be declared a State of Florida holiday. It's the time of year where everyone is looking to grab some "bugs." We call them bugs because spiny lobster, with their antenna, legs and tail, are related to the insect family in the biology world. However, even though they are considered the scavengers of the ocean, they're fun to catch and great to eat.
Opening Day fell on Sunday this year, so there was a lot of folks diving for lobster today. The Commercial lobsterman can pull their traps also, as they've been in the water since August 1. The season will go until March 31, making it a great opportunity during the long season to get some tasty crustaceans. Our recreational limit is six spiny lobster-per-person, per-day and there are several other regulations such as the carapace must be greater than three inches and you're not allowed to take egg bearing females. These rules are in place to maintain the lobster fishery and are strictly enforced.
The Chiefy crew members were the same as lobster mini season, minus John Struck, who had to work. We had a great start to the season as we jumped in to the exact same spots we did the first day of mini season. And to our surprise, lobster had replenished in those same spots.
We made quick work of getting our limit after only one dive. It's always a great day as we head back to the dock with our limit of lobster and it's before noon.