The beach: a fun, relaxing and beautiful place, can be used for your exercise and beauty care regime.
The Sun-Sentinel had a great article in the Lifestyle section last week;
"Want to be

Lifegaurd

HOT?"
by Nicole

Brochu

. Hot, in-shape lifeguards say that the beach is their go-to gym choice. So, if you are lucky to live or stay close to the beach, here are some tips: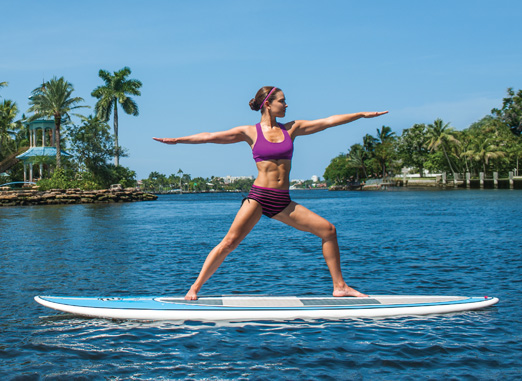 • Rent a

paddleboard

and paddle against the currents (for anyone who has been paddle boarding before knows it's quite the workout on just flat water, imagine adding waves).
• Take advantage of both hard and soft sand surfaces; soft sand helps build stamina while hard sand makes going long distances easier.
• Find 2 landmarks off the ocean and run against the current to the second landmark and swim back with the current going a longer distance each time.
• Playing a game of beach volleyball will do a body good.
• Swap a bike for a car as your transportation to the beach.
Too hot on the beach? Another article in the Sun-Sentinel,
"Easing into outdoor workouts on sultry summer days"
by Dorene

Internicola

Reuters explains that for most healthy people it takes them 10-14 days to acclimate their bodies into exercising in heat, but to achieve this you need to be working out in the heat! There are some other benefits to being in the heat, such as a lower risk for dehydration and you will sweat sooner, which means burning more calories. No more excuses!
Remember to stay hydrated, I recommend drinking coconut water if you're working out at the beach since it replenishes your body fluids better than just plain water.
Now what about beauty...
Let's start with the face; every beach bum knows that the love of the beach causes your face to dry up. Well, a really good trick to combat the summertime dry is to take a summertime fruit, papaya, and mash it up and apply to your face for 3 minutes. This will get rid of pore-clogging dead skin cells. To fight the humidity while putting on make-up, all you need to do is just splash you're face with cold water and it will shrink your pores and stop perspiration enough to get a smooth base and the jolt of cold water will wake you up! Also, by spritzing an equal amount of water and witch hazel on your face and neck is stimulating and helps absorb oil.
Hair, hair, hair! Every girl loves to learn new tricks to achieve beautiful hair. Add a pinch of baking soda to your shampoo, to remove dulling residue that accumulates in your hair. And if you are

blonde

like me, add 1 tbsp of baking soda to a quarter cup of baby shampoo, coat your hair while it's dry with the paste and leave on for 10 minutes to counteract brassiness, and help prevent discoloration caused by chlorine and salt water.
Finally, if you want to extend your summer tan, try drinking carrot juice. I know it sounds ridiculous, but the carotene in carrots give your skin a deeper color, or take vitamin A supplements for the same effect. In case you get a sunburn, aloe

vera

works just fine or soothe your skin with a cold compress made up of equal parts milk and ice water until the stinging subsides. According to Dr.

Ranella

Hirsch, milk helps calm inflammation.
Lensey

Knox, Intern, Greater Fort Lauderdale Convention & Visitors Bureau