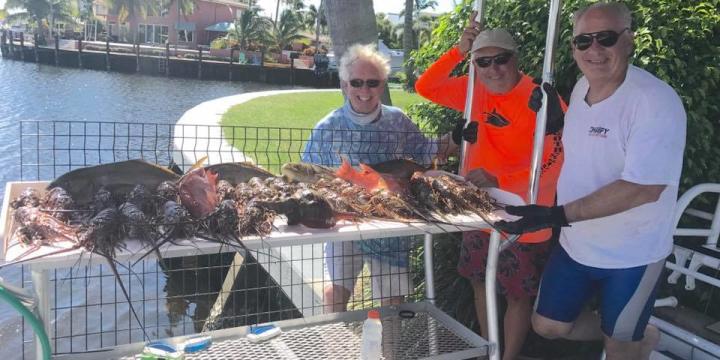 Underwater Report
8am-outside air temp-78 degrees, warmed to 92 by mid-day. Today was a little bumpy at 3-5 feet with the winds around 15 mph out of the southeast. Conditions under the water were comfortable at 86 degrees, mild north current and 50 feet of visibility.
Vessel & Crew
Private vessel-Sand Diver (39' Yellowfin with triple 300hp Yamahas)
Crew-Tom Campbell, Chuck Van Buskirk, Andy Rubin, Shelby Barnes and myself
Dive, Dive, Dive
Spiny lobster season had just started two days ago, so the search was on for the crustaceans. We headed south out of the Hillsboro Inlet to an area in 35 feet of water north of the Pompano Beach pier. This is a natural reef with plenty of marine life and a known location of the crew for some spiny lobster.  Tom, Chuck and Shelby dove together on the first dive and caught several lobsters. Andy and I did a spot between the Pompano Beach and Anglers Pier in Lauderdale-by-the-Sea on the eastern edge of the second reef in 65 feet.
The second dive for Tom, Chuck and Shelby was in the same area between the two piers, just in the 35-foot range. These dives are all in the second reef which is approximately 1000 yards off the beach. This area has great terrain with large coral domes, several hundred feet around, with tons of marine life. There's plenty of holes for the lobster to hide but you really need to take your time as the lobster are barely visible during the day. This requires some skill and patience as you drift over the reef. We look for areas of the reef with a lot of marine life as lobster tend to gather in these spots.
We needed a few more lobster to complete our limit of six-per-person as Andy and I jumped in to an area closer to the Inlet, also in 35 feet of water. We made quick work of getting the few more lobster we needed and were successful in getting a few hogfish and yellow jacks.
Overall, considering the bumpy conditions with the strong winds, the day turned out very well. Getting some nice fresh fish and a recreational limit of spiny lobster made the day a great one.