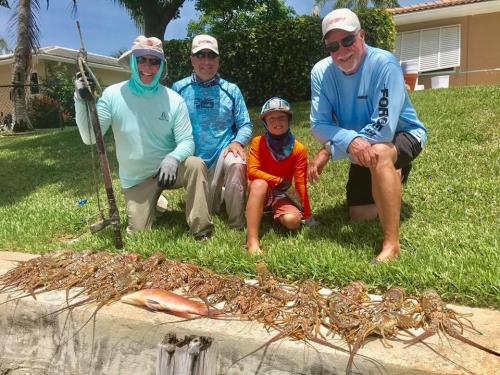 Underwater Report
8am-outside air temperature – 82 degrees, warming to 91 degrees by 10am. A calm, gentle breeze, 84-degree water temperature with flat seas, a mild north current and visibility of 60-plus feet on the reef.
Vessel & Crew
Private vessel-Chiefy (29' Sea Vee with twin 300 hp Mercury Verados)
Crew-Ken Udell, Chuck Van Buskirk, grandson Wyatt Van Buskirk, Miami Herald Outdoor writer Steve Waters, and myself.
Dive, Dive, Dive
Opening Day of spiny lobster was two days ago, so today was all about getting out and grabbing our limit of "bugs." That's the nickname we use for spiny lobster as they are related to insects in the biology world. The title of my book, Catching the Bug, also has a double-meaning because of the addiction you'll get after catching your own spiny lobster.
Today, we were able to bring Chuck's nine-year-old grandson with us. He's had some experience freediving and is a good swimmer. But today he caught his very own spiny lobster with the help of his grandfather and we all had a blast watching them in action.
We found a natural reef north of the Deerfield Beach International Fishing pier in 10-feet of water. This was the perfect spot to have Wyatt free dive with his grandfather Chuck and Steve Waters. And they caught lobsters.
We spent the rest of the day catching our limit in 35-feet of water around Deerfield Beach and it was another productive day. But to be part of having Wyatt catch his own spiny lobster, well that was very special. I'm sure there will be a lot more adventures with Wyatt, but it was great to see the excitement he had diving and helping the Chiefy crew "Catch the Bug."