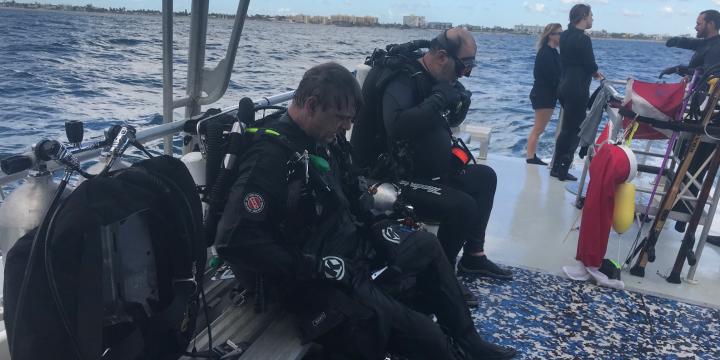 Underwater Report
8am-outside air temp-68 degrees, warmed to 80 degrees, with 79-degree water temp with two-three-foot seas, a south current and very nice 60-foot visibility.
Vessel & Crew
Private Charter-Sea Siren 46' Newton Dive Charter for Pompano Dive Center pompanodivecenter.com . We were checked in by Manager Tony Ernst and directed to the Sea Siren with Captain Matt Heath and Dive Masters Sarah Hollifield and Tilia Byerly.
Crew-Deerfield Beach resident Chris Magon, Cape Coral resident Matthew Fay and myself. 
Dive, Dive, Dive
Pompano Dive Center is conveniently located at the Sands Harbor Resort & Marina sandsharbor.com at 125 North Riverside Drive, they are one of three dive operations at the marina, however, they have the only dive shop. The complex includes a hotel, marina and two restaurants including the Rusty Hook Tavern rustyhooktavern.com. It's a very short boat ride north to the Hillsboro Inlet and the first dive was located north of the inlet on an artificial wreck called the Ancient Mariner.
Chris, Matthew and I dove together and because we were hunting, the Captain dropped us on a wreck south of their destination called the Mystery Barge. They proceeded to anchor to the Ancient Mariner, allowing us the freedom to drift dive. Matthew lives in Cape Coral, located on the west coast of Florida, but he dives here to hunt for spiny lobster. The west coast doesn't have a lot of lobster and they must travel a long distance to dive, so he finds our diving very easy and productive.
What was interesting was the makeup of other divers on the charter included visitors from Saint Louis, New Orleans and Iowa. The couple from Saint Louis were very new open water divers and requested to be accompanied by a Dive Master. The diver from New Orleans was working on his Advanced Certification and the Diver from Iowa was just glad to dive in the ocean.
There were also two different technical diving groups working on their certifications; mixed gases and rebreather. Having a large assortment of dive tanks and gear, it was nice to have such a large boat making plenty of room for everyone.
Our second dive was south of the Hillsboro Inlet, the technical divers did a deeper wreck called the Captain Dan in 100-foot of water. The Captain placed the three of us on the east side of the third reef, in about 75-feet of water, as we were the only underwater hunters. The rest of the divers also did a drift dive on the western part of the third reef where there's a fifteen-foot wall with the top about 50 feet.
Dive It All was the theme today aboard the Sea Siren. From beginning Open Water divers, Technical including mixed gases and rebreathers, Underwater Hunting, photography, wrecks and reef drift diving, we truly enjoyed diving it all in the Greater Fort Lauderdale area.