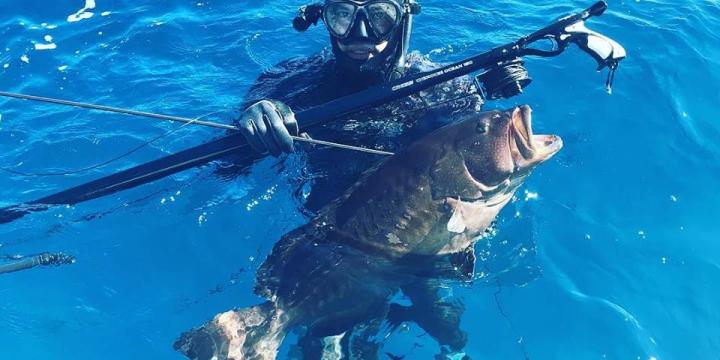 Underwater Report
8am-outside air temperature - 45 degrees, warming to 71 degrees by 10am with bright sunshine. A mild west wind and 79-degree water temperature with one-foot waves, a moderate north current and visibility of over 70 feet.
Vessel & Crew
Private vessel-Chiefy (29' Sea Vee with twin 300 hp Mercury Verados)
Crew-Chuck Van Buskirk, Carmine Dilorenzo, Francisco Loffredi and myself.
Dive, Dive, Dive
We headed south toward the Hillsboro Inlet and stopped at the Lighthouse Point Marina www.lhpmarina.com  for some much-needed fuel. We were greeted by owner Christian Spieker who helps run this family business and wished us a great day on the water on this chilly morning. The sun was shining but the air temperature was cool by South Florida standards.
Chuck, Carmine and myself were eager to get wet and warm up in the 79-degree water temperature. Francisco drove the boat while the three of us jumped in on the east side of the third reef in 75-feet of water. Besides the flat ocean the west wind gave us, we could see the reef from the boat giving us top-to-bottom visibility. We were excited to dive getting some spiny lobster with Chuck landing a nice black grouper.
During our surface interval, Francisco free dove and speared fish on an artificial wreck just north of the Deerfield Beach International Fishing Pier in 65-feet of water. He is a spearfishing champion and the dive brand Cressi ambassador for the sport. He lives in Brazil but frequents the United States, diving with the Chiefy crew when he gets a chance. He showed us why he's a champion by landing a large black grouper.
The three of us were ready to dive again and jumped in on the Hillsboro Ledge, off Hillsboro Beach, which is in 40-feet of water to pick up a few more lobsters.
Overall, we didn't get our limit of lobster which we've been getting the last few months, but getting two legal sized black groupers in the fish box made it a great day…oh, and the incredible visibility of over 70-feet made for a spectacular day.