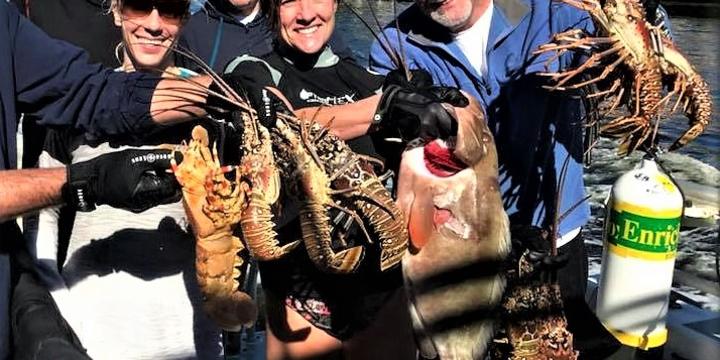 Underwater Report
Boarded the boat at 8:30am at Marina One in Deerfield Beach with an outside air temp of 44 degrees, which was a little chilly by South Florida standards. The sun was shining, and the outside air warmed to 71 degrees by mid-morning, with the water temp at 77 degrees. A very mild north current and 50-foot of visibility with one-foot seas.
Vessel & Crew
Commercial Dive Charter-Lady Go Diver-46' Newton dive boat-Captain Bradley and Gabe as the Dive Master
Crew-Susie Maniscalco of Bend, Oregon, was my dive buddy today and she wanted to learn how to spear fish. We met several years ago on this same boat as she was vacationing with her husband. He'd rather golf, allowing her the opportunity to pursue her passion of diving. She is in the fire service, so we made an instant connection. They both can have fun in the Greater Fort Lauderdale area.
Dive, Dive, Dive
Today was an introduction to spearfishing for Susie, but most importantly she has mastered her diving skills over the past years. She is very comfortable underwater attaining both Advanced and Nitrox certified SCUBA diver, which is ideal for the next step of underwater hunting. On her last visit two years ago, we worked on catching spiny lobster and she has gotten comfortable with that skill.
Adding spearfishing is another skill and knowing her background as a quick learner made it easy. Of course, she had already read Catching the Spear-it! The ABC's of Spearfishing prior to getting here.
I introduced her to the 48-inch AB Biller speargun, reminding her it's difficult to lobster hunt and spearfish at the same time. Looking for lobster requires you to be close to the reef while spearfishing is best done high off the reef.
I reinforced "Muzzle Awareness" (as in knowing where the muzzle of your gun is pointed) and it's always best to hunt side-by-side. We reviewed the operation of the speargun and covered the use of the safety. I showed her how to "hip load" the bands and we were on our way.
It was the end of the first dive and she hadn't even fired the speargun, but we did grab some lobster along the reef. I wanted her to get a feel for shooting the gun, so I had her aim at an old beer can lying on the bottom. As she lines up, a large red grouper comes out of the reef and swims directly in front of the tip of the shaft. She looked at me for approval to shoot and BAM, the first time she pulls the trigger, she lands a nice 23" grouper. It doesn't get much better than that on your first spearfishing adventure in the Greater Fort Lauderdale area.