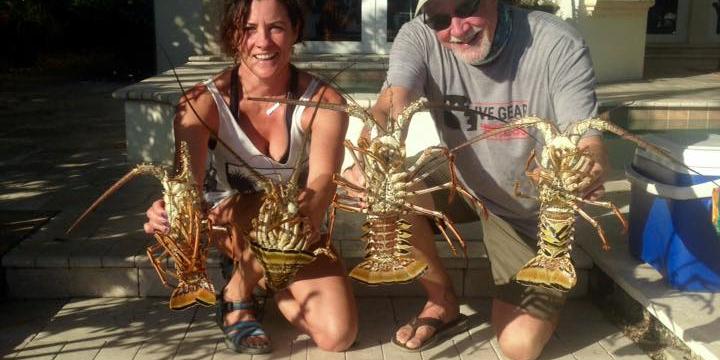 Underwater Report
8am-outside air temp-66 degrees, warmed to 81 by mid-day. The water temp has been a consistent 77 degrees for the past two weeks. Combined with light winds, a south current and 70' plus visibility, it made for an outstanding diving and boating day off Fort Lauderdale.
Vessel & Crew
Private vessel-Sand Diver (39' Yellowfin with triple 300hp Yamahas)
Crew-Tom Campbell, Stephen Norris, Carmine Dilorenzo, Susie Maniscalco and myself with Shelby Barras driving.
Dive, Dive, Dive
The diving conditions have been nothing short of spectacular recently and it always makes for a fun day when you dive with great friends. Tom and Stephen dove together with Carmine, Susie and me diving. This was Susie's second day of spearfishing and she is mastering the skill needed to "See the Fish, Shoot the Fish."
We dove an area named "lobster rock" which is on the eastern edge of the second reef between the Pompano and Angler's Fishing pier. Historically, this three-foot around rock has held a few lobsters. It's a nice spot to start, as there's also a lot of fish in this area. We've been working on Susie's spearfishing, as this was her second day trying to "Shoot the Fish." On her first day last Thursday, she landed a nice red grouper.
We descended to the bottom at 65-feet, but didn't find any lobster. However, she caught my attention and pointed to a fish…another nice sized red grouper. That's the first R (Fish Recognition) in the three R's and four S's in Catching the Spear-it! The ABC's of Spearfishing. With my approval she turns back and shoots the fish. 
Two days and two groupers!! This girl is on fire…
We sent up the fish with a lift bag for the boat to put in the ice box and continued our dive. We grabbed a few more lobster along the way but couldn't wait until we got back on the boat to share in her excitement. You couldn't get the smile off Susie's face on the boat ride home. This was a great day on the water for Susie in the Greater Fort Lauderdale area.