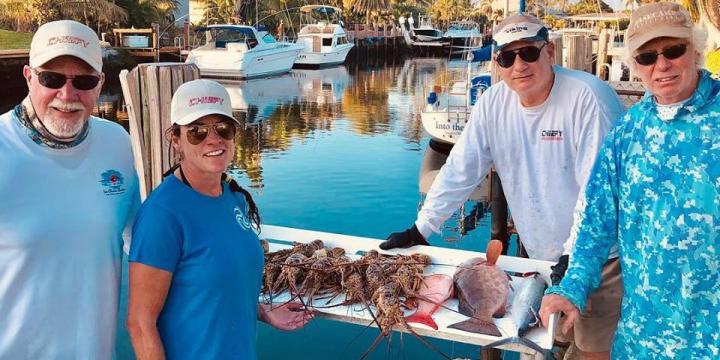 Underwater Report
8am-outside air temperature - 63 degrees, warming to 82 degrees by 10am. A gentle southeast wind, 77-degree water temperature with flat seas, a very mild north current and visibility of 50 feet. The diving conditions continue to be nothing short of spectacular over the last few weeks.
Vessel & Crew
Private vessel-Chiefy (29' Sea Vee with twin 300 hp Mercury Verados)
Crew-Chuck Van Buskirk, Andrew Rubin, Susie Maniscalco and myself.
Dive, Dive, Dive
From Deerfield Beach, we headed south along the Intracoastal to the Hillsboro Inlet. This is always a nice boat ride as we get to view the multi-million-dollar homes and yachts heading to the inlet.
We continued to dive the shallow reefs around the Pompano Beach pier as the area has had an abundant amount of spiny lobsters.
I've been working with Susie from Oregon on spearfishing as she's landed two nice red groupers the last few days. One thing you learn about spearfishing, it's a very selective type of harvest. There are thousands of fish seen during your dive, but you need to only take an edible and legal species. That requires a knowledge of fish recognition and the regulations of each type of fish.
It also helps to have a "hunter instinct" as you are hunting underwater. I was fortunate to land a mutton snapper on our dives together, but they usually are difficult to spear, as they are almost always on the move. I didn't have time to let Susie spear it as the fish was swimming away when I saw it. We also grabbed a few spiny lobsters.
Andy and Chuck did land two nice fish; a red grouper and a mackerel. They also grabbed some spiny lobster as their drift dives ended within a few hundred yards of the Hillsboro Inlet.
Even though Susie hadn't shot any fish, one consolation for her is technically she landed their fish. They used lift bags to float them to the surface and she grabbed them with the fish hook to put them in the ice box. We laughed about that when Andy and Chuck surfaced as she had taken pictures with their fish. We reviewed the requirements of landing fish, so either way, it was another spectacular day diving in the Greater Fort Lauderdale area.