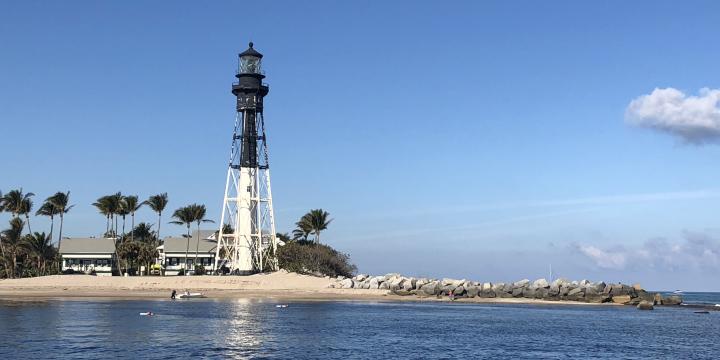 Underwater Report
8am-outside air temp-64 degrees, warmed to 80 by mid-day. The water temperature has been a consistent 77 degrees with a south current and 60-foot of visibility.
Vessel & Crew
Private vessel-Sand Diver (39' Yellowfin with triple 300hp Yamahas)
Crew-Tom Campbell, Richard Rice, Peter de Villers and Chris de Villers, Susie Maniscalco and myself with Bruce Paul and Angie driving.
Dive, Dive, Dive
This was Susie's last day of diving with us in the Greater Fort Lauderdale area as she was heading back to Oregon in the next few days. We had been working on spearfishing and catching some lobster the past week, and she now has plenty of memories to last a lifetime.
We introduced her this week to the lobster snare instead of the net and tickle stick. This streamlines your equipment, especially when you are also spearfishing. She has mastered the technique of using the snare as a tickle stick to get behind the lobster to get them out of their hole. Then it's using the loop of the snare to place over the spiny lobster tail and snatch them to place them in your lobster bag. Before putting the lobster in your bag, she checked for eggs (they can't be harvested) and measured the carapace underwater to make sure it's larger than three inches.
She has successfully hip-loaded her speargun and landed two nice groupers several days ago. Fish recognition is key as it's important to know what fish you can take. Fish look different underwater, so it's important to get to "know your fish." Being from the west coast of the United States, Susie said "diving here isn't like diving in the kelp forest in California."
Diving in sunny, south Florida is very unique where there are short boat rides to the three-reef system, all very close to our white sandy beaches. The water temperature is mild, currents not usually extreme and visibility relatively good. Susie's experience of being on Scuba and allowed to harvest spiny lobster and spear fish was a great one. She even became a "Chiefy Crew" member, reserved for a select few, but she exhibited all the necessary skills in meeting our standards. When asked what makes a great crew member, her response was simple, "bring good beer" on the boat. She'll be back next year for additional instructions and perhaps landing bigger fish.