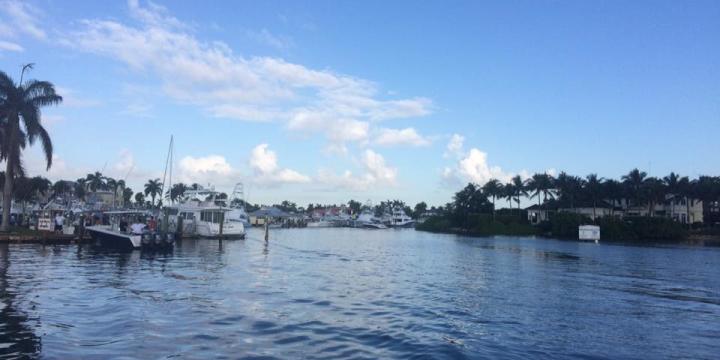 Underwater Report
8am-outside air temp- 71 degrees, warmed to tie the record at 85 degrees. With low humidity and no wind, this was an ideal diving and boating day in South Florida. 79-degree water temp with flat, calm ocean conditions and a very mild south current.
Vessel & Crew
Private vessel-Chiefy (29' Sea Vee with twin Mercury Verados)
Crew-Ben, John, Chuck and myself
Dive, Dive, Dive
The Chiefy crew was excited to get out today as the forecast called for a mild west wind in front of a cool front coming over the weekend. As we headed south toward the Hillsboro Inlet, the forecast turned out to be correct. Having Deerfield Beach as my home port is ideal for any boater, as I'm located between two ocean access inlets, Hillsboro Inlet to the south and the Boca Inlet to the north. It's nice to have a choice as the inlets are only a few miles in either direction. Deerfield Beach is the northern most coastal community in the Greater Fort Lauderdale area.
Today we did our first set of dives off Anglers Pier in Lauderdale-by-the-Sea. Chuck and I dove a patch reef located east of the second reef. We grabbed a few spiny lobsters and speared two nice sized hogfish. Ben and John dove on the third reef, which was pretty with an abundance of marine life, but not very productive for fish or lobsters. The third reef here is 50 feet at the top, dropping vertical to 65 feet in the sand. This third reef structure of ledges, overhangs and walls provide great habitat for schools of juvenile fish with plenty of soft corals and sponges.
We decided to move north of the Hillsboro Inlet off Deerfield and Hillsboro Beach. Our remaining dives for 2016 were in 75 feet of water, east of the third reef. This area has a series of small, low profile patch reefs. These are not very pretty, but today there were an abundance of spiny lobsters. With our over 70-feet of visibility and gentle south current, the conditions were ideal to getting almost our limit of spiny lobster. (ended up with 22 but a limit would have been 24) It turned out to be an awesome day to be diving in sunny South Florida. Almost a limit of spiny lobster and a few nice hogfish to eat. Did someone say it's the end of December?