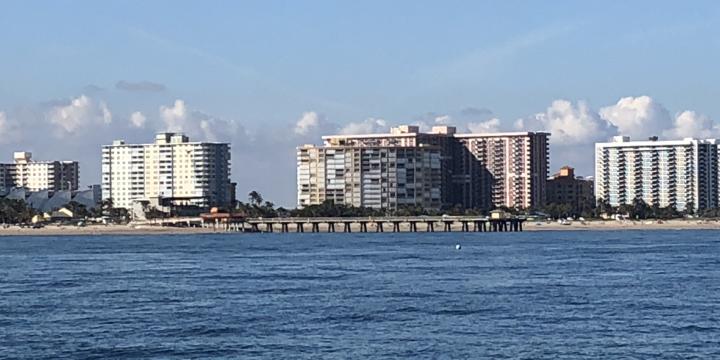 Underwater Report
8am-outside air temp-62 degrees, warmed to 82 by mid-day. The water temp is still 77 degrees, combined with light winds, a south current and 70' plus visibility, December continues to be awesome for diving this year.
Vessel & Crew
Private vessel-Sand Diver (39' Yellowfin with triple 300hp Yamahas)
Crew-Tom Campbell, Stephen Norris, Helen Rodney, Kelly Johnson, Andrew Rubin, Jack Harari, and myself with Bruce Paul driving.
Dive, Dive, Dive
We wanted to get one more dive in before the end of the year as the grouper season ends on January 1st. The divers today are all members of the South Florida Spearfishing Club spearfishing.org and it's great to dive with likeminded folks.
No groupers were taken today but that didn't stop all of us from having a great time. The diving has been awesome the last few weeks and we didn't want it to end. We concentrated on an area south of Angler's pier on top of the second reef in 30-feet of water. We were successful in almost getting our limit of spiny lobster today and the season continues to be very good. Most divers don't realize spiny lobster can be taken until March 31st, with the season beginning on August 6th.
Our second dives were concentrated on the third reef area, also south of the Angler's pier, in 50-feet of water. These west-facing walls drop to 65-feet in some areas, providing structure for an enormous amount of marine life. Schools of snapper and grunts could be seen with the outstanding visibility, so it was a pleasure to be in the ocean today. We were drift diving, essentially the three sets of divers were parallel along the reef. There's plenty of area to cover, as west of the wall, there are scattered small islands with lots of soft corals. Interesting enough today, this is the area where we found lobsters. Only one or two together, but hiding in small holes at the bottom of these islands. They were relatively easy to catch in these small holes, but this is an area where lobsters are not typically seen.
The team of Kelly and Helen were declared "Queens of the Reef," as they obtained their limit between both dives. This is a designation given to the team who grabbed the biggest or most lobster or landed the largest fish. The ladies didn't give the guys too much razzing as they were declared the winners. Where else can you have this much fun in a wetsuit in the last days of the year but diving in the Greater Fort Lauderdale area?