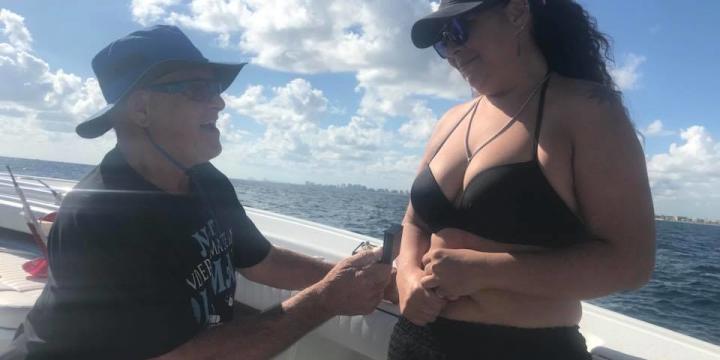 Underwater Report
8am-outside air temp-75 degrees, warmed to 84 degrees,
79-degree water temp with a one-two-foot seas and a south current with 60-foot of visibility. The weather has been nice this week and it was great to dive on another spectacular day.
Vessel & Crew
Private vessel-Sand Diver (39' Yellowfin with triple 300hp Yamahas)
Crew-Tom Campbell, Stephen Norris, Megan Nicole Romine and myself. Bruce Paul and Angie Vilar Rocabado were driving the boat as Bruce had an injury to his knee, prohibiting from diving.
Dive, Dive, Dive
All of us are members of the South Florida Spearfishing Club spearfishing.org except Megan, but she certainly was very comfortable in the water as an experienced diver and "spearo."
Megan and I dove together east of the third reef in 70-feet of water. The reef on this side has grooves or "fingers" going from west to east. The area has small overhangs or undercuts where we found some spiny lobster. It seemed in almost every groove were several lobsters together but a lot of them were small. It's required each harvester or diver must have their own measuring device so the lobster is measured underwater. The carapace must be greater than three inches.
Tom and Stephen did the western edge of the third reef which has a 15-foot ledge or wall and another smaller reef to the west.
The next dive was the eastern edge of the second reef between the Pompano and Anglers Pier. The eastern edge is in 65-feet of water and there's another edge just to the west of the main edge, making it a nice dive for two divers. Tom and Stephen paralleled us on the top of the second reef in 40-feet of water and all of us came up with more spiny lobster.
A great day was even better as we all shared in a special engagement during our surface interval between dives. When we all surfaced after the first dive, Bruce proposed to Angie, giving her a nice engagement ring.  We're all friends and it was nice to share in a personal moment for the two of them. As we're all ocean lovers, Bruce felt it appropriate to ask Angie to marry him on the water.
And she even said YES!!!