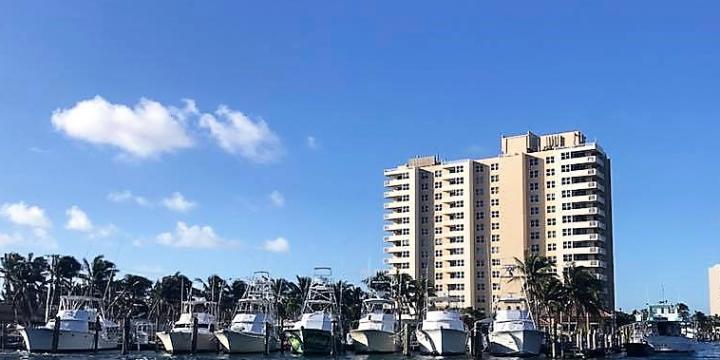 Underwater Report
8am-outside air temperature - 66 degrees, warming to 80 degrees by 10am. A gentle southeast wind, 79-degree water temperature with one-foot waves, a very mild north current and visibility of 50 feet.
Vessel & Crew
Private vessel-Chiefy (29' Sea Vee with twin 300 hp Mercury Verados)
Crew-Chuck Van Buskirk, Carmine Dilorenzo and myself.
Dive, Dive, Dive
We headed south along the Intracoastal Waterway from Deerfield Beach to the Hillsboro Inlet and continued south to an area off the second reef, north of the Pompano fishing pier. With three divers, we followed a rotating pattern of two of us diving with one of us driving the boat on our drift dives.
Carmine and I dove first with Chuck on the boat in a new area we recently found called the Boulders. These are in 40-foot of water along the second reef, appeared to have been placed there many years ago as an artificial reef. These coral boulders run north and south, in some areas are 100 feet wide. There was a lot of marine life and we found some spiny lobster.
Carmine and Chuck dove together next to an area on the third reef that produced more spiny lobster and a nice red grouper. This area is a little deeper at 70-feet but produced great results. All three of us are diving with 36 percent Nitrox, which allows us longer dive time, with less of a surface interval. Being Nitrox certified as a diver really helps with the variety of depths in the reef system in the Greater Fort Lauderdale area.
Chuck and I paired up for the third dive on top of the third reef, which is 50-feet deep but holds a lot of marine life. We were able to grab a few more lobster before we headed into the Hillsboro Inlet.
Our dives today were within a few minutes of the inlet which makes for an easy day of traveling to our sites. The Hillsboro Lighthouse was always in view at the inlet entrance, so we knew we were close to home. The many sportfish boats and mega-yachts are located nearby, so its always a rich nautical view as we return from a great day of diving.