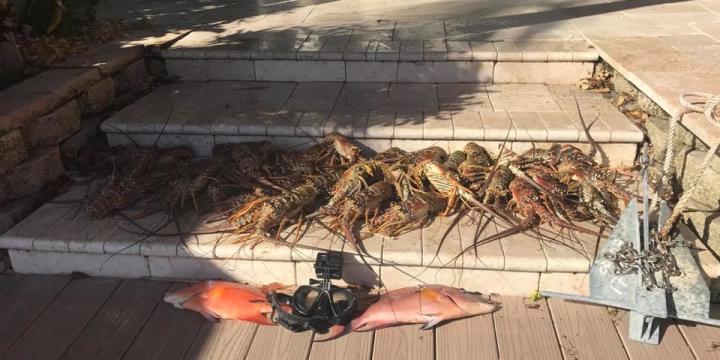 Underwater Report
8am-outside air temp-72 degrees, warmed to 80 degrees, with a gentle breeze out of the east, the sun came out around 10am. It's been a record breaking warm winter this year with gentle breezes and great ocean conditions for diving.
73-degree water temp with one-to-two foot waves with a mild south current and 40' visibility.
Vessel & Crew
Private vessel-Sand Diver (39' Yellowfin with triple 300hp Yamahas)
Crew-Tom, Chuck, Peter, Dave, Bruce and myself-all members of the South Florida Spearfishing Club
Dive, Dive, Dive
We left the dock in Lighthouse Point around 8:15am and headed south out of the Hillsboro Inlet. My dive buddy today was Chuck, with Tom, Peter and Dave diving together. Bruce drove the boat, allowing the two groups of divers to go in at the same time, making it a much shorter day.
We dove the second reef, between the Pompano Fishing pier and the Anglers Fishing pier in Lauderdale-by-the-Sea. Chuck and I started on the eastern edge of the second reef (65') but moved to the top of the reef around 55'. Tom, Peter and Dave dove in 45' but Dave ended up breaking away from them, ending up in 35'. This proved to be the right area as Dave found a lot of spiny lobster. He got his limit and then left the dive marker for Chuck and me to get our limit. The area had a lot of soft corals and small reef structure where the spiny lobster were hiding. 
Our surface intervals were very pleasant as the conditions above the water were calm and sunny. It turned out to be a beautiful day with a few fish and a limit of lobster for everyone to share. But the best find was an anchor by Tom and Peter found our dive buddies mask and GoPro he had lost last week. Our dive buddy John made the mistake of putting his mask with his GoPro on his forehead after he surfaced last week. It fell off his head backwards but the boat marked the location. We didn't have enough air for a recovery last week but today, we returned to the location and found John's mask and GoPro. Peter was the recovery specialist on today's dive.
Once again giving all of us a great reason to return for more dives in sunny south Florida.