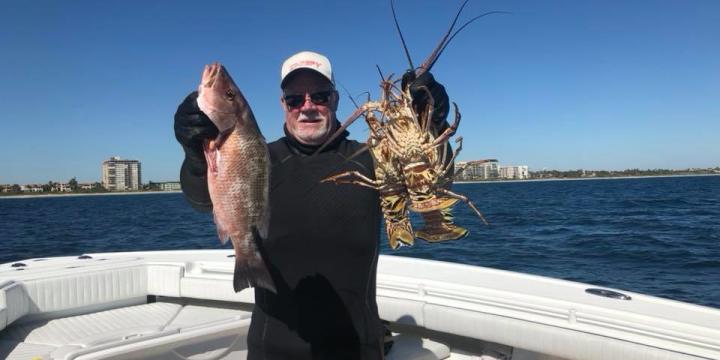 Underwater Report
8am-outside air temp-64 degrees, warmed to 80 by mid-day. The water temperature is 75 degrees and we had 40-foot of visibility with a gentle south current.
Vessel & Crew
Private vessel-Sand Diver (39' Yellowfin with triple 300hp Yamahas)
Crew-Tom Campbell, Jack Harari, Andrew Rubin and myself. Bruce Paul and Angie drove the boat.
Dive, Dive, Dive
The month of February has been warm, even by south Florida standards. We've been experiencing near record-breaking warm temperatures, hitting 80 degrees the entire month so far. We hope to continue the trend, even if the rest of the country has experienced some very cold and nasty weather.
Adding to the warm air temperatures has been the warm water temperatures, great visibility and very gentle currents. The winds have been mild, keeping the waves tolerable for diving…almost perfect conditions for diving. Add to the fact, the spiny lobster population has been numerous, you get out and dive!
Andy and I dove together on the shallow 35-feet Hillsboro Ledge, while Jack and Tom did a little deeper in the 45-feet range. This is considered the second reef, allowing divers the ability to experience a reef with a large amount of marine life close to shore.
We almost limited out at six lobsters per diver and I was able to get a large Mangrove Snapper. I have plans for a tasty meal tomorrow night, as it's dad-daughter dining night. Stay tuned as the adventure continues at The Rusty Hook Tavern in Pompano Beach for another modified Dive, Dock & Dine on the next Chiefy Blog.