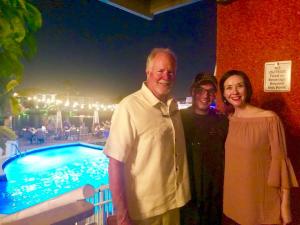 Getting another opportunity to dine with your only daughter Jennifer, for a modified Dive, Dock & Dine made tonight very special. On February 3rd, we brought some lobster tails I had caught the day before to The Rusty Hook Tavern therustyhooktavern.com in Pompano Beach, for co-owner and chef Ned Jaouhar to prepare appetizers and entrees. He didn't disappoint us, converting our spiny lobster tails to tasty treats, so this time we changed it to fish…
The fish were a nice mangrove snapper from yesterday and a yellow Jack from a few days ago, both landed by me. Besides spending quality time with your daughter, there's also something special about eating your own fresh catch. Knowing it was landed off the waters in the Greater Fort Lauderdale area made it a tremendous experience.
We were seated in a small side table for two, decorated with a vintage picture of the legendary Barefoot Mailman and the Hillsboro Inlet lighthouse. We were close to the exterior windows, allowing us a view of the Sands Marina.
We ordered a bottle of Sauvignon blanc wine and we each had a house salad, mine with a creamy peppercorn and Jennifer having a spicy sriracha ranch dressing. 
The Yellow Jack was prepared as two different and unique appetizers; Yellow Jack carpaccio with extra virgin olive oil, orange segments and strawberry Ponzu. The second was a Yellow Jack tower with jumbo lump crab, avocado, compressed cucumber, and sesame crisp. We could have stopped eating right there, however, we knew the Mangrove Snapper was up next.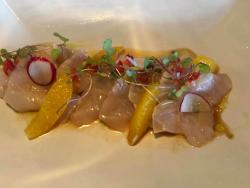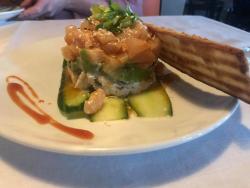 The Entrée was a deep-fried mangrove snapper with ratatouille, Meyer lemon and sweet chili glaze. Served whole, the snapper with a crusty coating covered in the sweet chili glaze, keeping the meat moist and very tasty. I just wish we had room for dessert, however, we couldn't finish our entrée.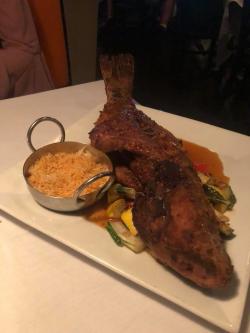 All-in-all this modified Dive, Dock & Dine filled the requirements of an unforgettable dining experience. Having Chef Ned cook our catch just provided the meaning of awesome available in the Greater Fort Lauderdale area.