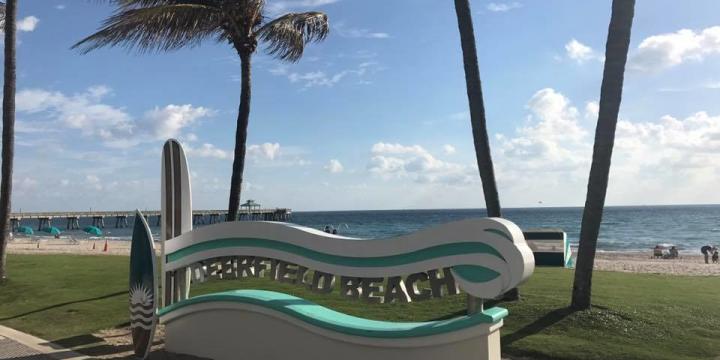 The sun was shining with a gentle breeze off the ocean for this year's Deerfield Beach Pioneer Days Parade starting at 10am on Saturday, February 18.  And why not, because "it never rains on Pioneer Days." The three-day festival kicked off Friday evening, includes a carnival, food vendors, arts & crafts and live entertainment with a grand firework show off the pier on Saturday evening. The entire event is centered along Ocean Way, overlooking the white sandy beaches and crystal blue water of the Atlantic Ocean.
Co-Grand Marshals for this year's Parade were Miami Heat Basketball teammates Willie Reed and James Johnson. There was even a bed race sponsored by the Deerfield Beach Chamber of Commerce and JWR Construction that started the parade.
This tradition was established in 1947 as a one day BBQ by the Lions Club at Pioneer Park and was called Cracker Day. The shift of the event to the beach also changed the name to Founder's Day in the 1990's.  Presently, even with the recent name change to Pioneer Days, the 70-year-old festival and parade are the longest, continuously running event in the area.
With the theme of "Education Fuels Tomorrow's Pioneers," this year's parade brought the community together to celebrate its young and old pioneers. Over 100 groups, including high school marching bands, little league baseball players, civic groups, businesses, and local politicians, showcased floats along with a large assortment of vehicles.
If you're looking for guaranteed great weather for a future vacation, think next year's Pioneer Days on the Presidents Day weekend in Deerfield Beach. What better way to spend winter than at another wonderful outing overlooking the beach celebrating the history of Deerfield Beach!