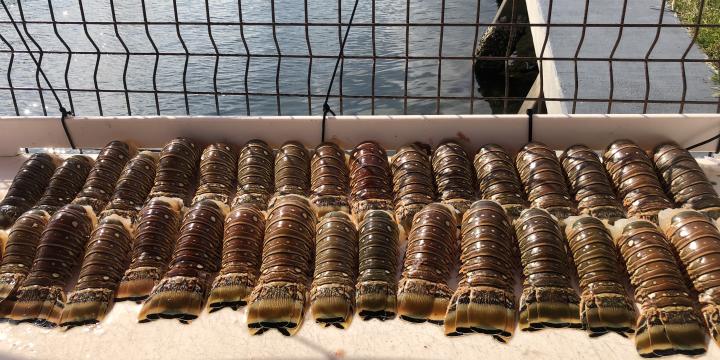 Underwater Report
8am-outside air temp-61 degrees, warmed to 80 by mid-day. The water temperature is still 73 degrees and we had 40-foot of visibility with a gentle north current.
Vessel & Crew
Private vessel-Sand Diver (39' Yellowfin with triple 300hp Yamahas)
Crew-Tom Campbell, Stephen Norris, Marshall Sklar, Eric Kremer, Jack Harari, Ted Foreman and myself. We had Shelby Barras driving the boat.
Dive, Dive, Dive
The rest of the nation watched Punxsutawney Phil on this Groundhog Day, see his shadow, indicating another six weeks of winter. It's more of the same in the Greater Fort Lauderdale area. Yes, we'll have to suffer with more diving…and diving…and diving…
On this day, because we had Shelby as a driver, we were able to have all seven divers in the water at the same time. I dove with Jack and Ted in 75-feet of water, east of the third reef. This allowed the other divers to dive parallel on the third reef, which runs north and south, making it easy to navigate. We started deeper, in an area with some small islands, with patches of sand in between.
On the second dive, after a surface interval of an hour, we all dove the top area of the third reef. This is where I shot a nice mutton snapper and picked up some more spiny lobster. Overall, we grabbed 40 lobsters, just two shy of our lobster limit of six per diver. Not a bad winter day!
We'll have to resign ourselves to six more weeks of this "brutal" winter. Getting almost our limit of spiny lobster, a nice mutton snapper and a great day diving with great friends, it seems it will be more of the same.