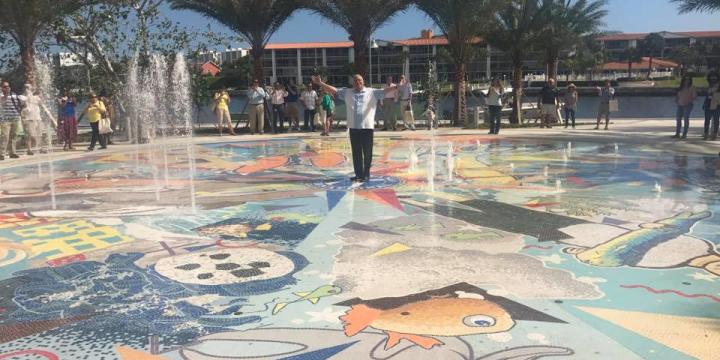 The much-anticipated Grand Opening of Sullivan Park occurred under sunny skies and plenty of smiles to all the participants. Over six years in the making, the City of Deerfield Beach through its Community Redevelopment Agency (CRA) spent nearly four million dollars to enhance a breathtaking view. Located directly on the Intracoastal waterway, this last remaining public land has been transformed into two playgrounds, marina, boardwalk and waterway access for kayaks and stand-up paddleboards.
In 2011, the CRA purchased the former Riverview Restaurant site, adjacent to the existing Sullivan Park location. The restaurant, a speakeasy during the prohibition era, even visited by gangster Al Capone, had fallen into disrepair. The property overlooks "Capone Island" which is now Deerfield Island, a Broward County Nature Park, only accessible by watercraft. 
The Park is now linked to the Cove Shopping Center, located to the south, by an added pedestrian walkway under the Hillsboro Blvd bridge. A new nine-story hotel and upscale waterway restaurant are scheduled to start construction this year, adding to the revitalization of this area. There's even a stair tower with access to the Intracoastal bridge, allowing pedestrians an easier walk to the beach.
But the centerpiece of this Park is the cities first public art process; a splash pad with 68 water fountains and nearly one million 1" by 1" mosaic tiles, measuring 40' in diameter. A public art committee guided the process and chose 14 children's artwork to provide a "Fun in Deerfield Beach" theme. The artist team of Ruben Ubiera and Cynthia Fisher transformed the children's artwork into pie-shaped pieces to complete the "Full Circle."  
Another family, fun destination in Deerfield Beach, located in the Greater Fort Lauderdale area.