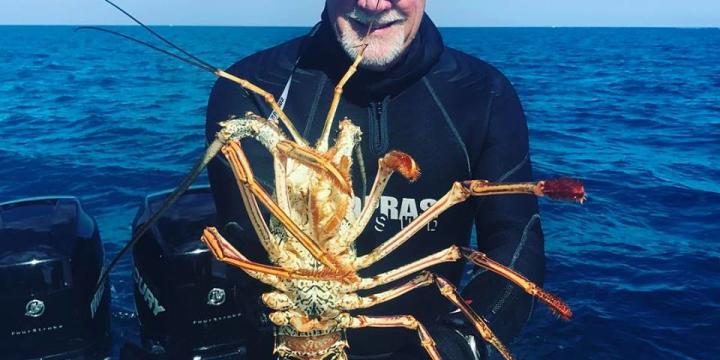 Underwater Report
8am-outside air temperature - 72 degrees, warming to 80 degrees by 10 am. With low humidity and a mild east wind, this was a great diving and boating day in South Florida. 73-degree water temperature with a flat ocean and a very mild south current with visibility of 70-plus feet made this was a blue water dive day!
Vessel & Crew
Private vessel-Chiefy (29' Sea Vee with twin 300hp Mercury Verados)
Crew-Chuck Van Buskirk, Paul Struzziero and myself
Dive, Dive, Dive
We got a later start than normal due to the Grand Opening of Sullivan Park in Deerfield Beach. But we didn't want to pass up the opportunity to dive on such a spectacular day. We left the dock in Deerfield Beach around 11:30 am and we're in the water by noon. Our first dive paired Chuck and Paul together, directly east of the Deerfield Beach pier on Frick's Reef. This is a west facing 15' wall in 65' of water to the top of the reef at 50'. The blue water, mild south current, and clear visibility made this a memorable dive.
Chuck and I did a dive in 65' of water in a patch reef located between the 2nd and 3rd reef, off Hillsboro Beach. This resulted in spearing a few nice hogfish and finding a "secret spot" of spiny lobster.
Paul and I did the last dive of the day, north of the Deerfield Beach pier in 70' of water, resulting in grabbing a few more "bugs." This area is the east side of the 3rd reef and we nickname spiny lobster "bugs," as they are related to insects in the biology family.
Getting home around 5 pm with our catch of spiny lobster and fresh hogfish made for a great day of diving. The ideal conditions, great buddies, and bountiful catch made this an outstanding day.