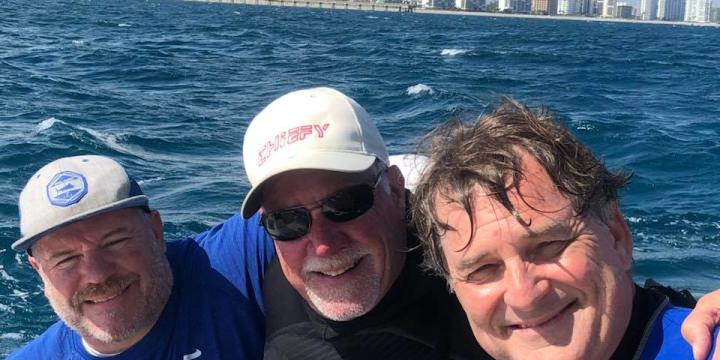 Underwater Report
8am-outside air temperature - 69 degrees, warming to 82 degrees by 10am. An east wind, 73-degree water temperature with one-foot seas, a gentle south current and visibility of 50 feet.
Vessel & Crew
Private vessel-Chiefy (29' Sea Vee with twin 300 hp Mercury Verados)
Crew-Fox Sports ScubaNation Billy Catoggio, Mike (Coach) Zimmer and myself diving with Chuck Van Buskirk as our driver.
Dive, Dive, Dive
As part of the Fox Sports ScubaNation TV show, the Greater Fort Lauderdale Convention & Visitors Bureau has promoted the area on a series of shows highlighting the theme of "Dive It All." The show has included Fort Lauderdale, Lauderdale-by-the-Sea, Pompano Beach and my very own Deerfield Beach.
The forecast was excellent, and the morning was spent at Oceans 234 www.oceans234.com interviewing owner Danielle Rosse, to be included in an upcoming episode for the show. They interviewed me with the beach and ocean in the background, including the Deerfield Beach International Fishing Pier. Topics included the installation of the only local underwater camera on the pier and how accessible our reefs are from our beautiful, white, sandy beaches.
But the best part was we the scheduled dive aboard Chiefy that afternoon. We first dove the area south of the Deerfield Beach pier in 40-feet of water, called Separated Rocks. Billy and Mike were both armed with cameras, as they followed me along the reef finding and catching spiny lobster. We found a lot of lobster on this dive along with some moray eels, turtles and even a sand shark. The best part was knowing a few hours earlier, our interview was back at the beach with this area in the background.
On the second dive, they outfitted themselves with a snare and a net and tickle stick. We found a lot of lobsters, however, a lot of them were short. But, they were able to get their limit of "bugs," bringing home a nice catch.
The day didn't end there as we cleaned up after the afternoon of diving and catching spiny lobster, we joined Danielle at Oceans 234 for Happy Hour for a few drinks and delicious food. There wasn't any filming that evening, just a great way to end the day with Billy and "Coach" as new Chiefy crew members.
The Greater Fort Lauderdale area can truly proclaim the "Dive It All" theme, as highlighting Deerfield Beach never looked so good.