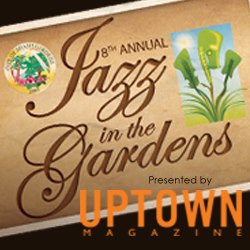 March arrives in Greater Fort Lauderdale with enviable warm temperatures and the promise of sun and fun activities and you can't help but think - can life get any better than this? It can. Things really heat up mid-month when some of today's hottest talent - old school and new - take the stage at the
8th annual Jazz in the Gardens
on March 16 and 17.
Babyface, Neyo, Mary Mary, Fantasia, Charlie Wilson, Najee, Rachelle Ferrell, Monica, New Edition and Earth, Wind and Fire are scheduled to perform during the weekend, and the setting couldn't be better. The spacious Sun Life Stadium in Miami Gardens, bordering Broward and Miami-Dade counties, turns into a marathon festival of soul food, Jamaican, Haitian, Latin, Chinese and Bahamian dishes, arts and crafts and interactive games. With No. 1 radio personality Michael Baisden playing host again this year, the ears of the nation will also be attuned to the Fort Lauderdale, a happening place.
The Greater Fort Lauderdale Convention & Visitors Bureau began a partnership with Jazz in the Gardens four years ago and the event has mushroomed in popularity as one of South Florida's premiere music venues, drawing multicultural visitors from around the country. The area has become the destination of choice for African American and Caribbean travelers for vacation getaways and family reunions and for meetings of prestigious national organizations.
The National Urban League recently announced that its annual conference will come to Fort Lauderdale for the first time in 2015. Groups such as the 100 Black Men of America and the National Association of Black Accountants have also brought their meetings to Fort Lauderdale and plan to return. In addition, plans are underway to make Fort Lauderdale the permanent home of the American Tennis Association, the country's oldest organization for Black tennis players, and to establish of a Black Tennis Hall of Fame.
When visitors come, for whatever reason, they can bet on celebrity-studded events and Jazz in the Gardens is making March even more memorable.
-Kitty Oliver