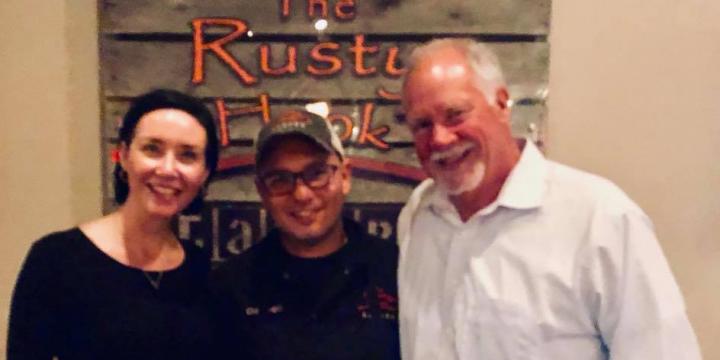 Tonight, was very special. It's not too often you get to spend some quality one-on-one time with your only grownup daughter. Our schedules allowed for a Dad/Daughter Date Night this Saturday evening, so we decided to go to the The Rusty Hook Tavern in Pompano Beach. This waterfront restaurant is located at the Sands Hotel and Marina along the Intracoastal Waterway.
I was first introduced to the Rusty Hook when the Chiefy Crew did a Dive, Dock & Dine on May 11th of last year. It was then that I met Chef/Co-Owner Ned Jaouhar. He's also a spearfisherman, having his boat docked at the marina, which gives him a great understanding of the types of fish in our local waters. This makes a big difference in how the variety of local seafood is prepared. Even though most customers aren't divers and spearfisherman, it's nice knowing the owner can prepare our local catch.
Co-owner Kareem Lakchira greeted us for our 6:30pm dinner reservations, showing us to a sunset table, overlooking the marina and waterway. Tonight, was a modified Dive, Dock & Dine, as I gave Chef Ned three spiny lobster tails caught yesterday. We ordered a bottle of Sauvignon Blanc wine and we each had a house salad, mine with a creamy peppercorn and Jennifer having a spicy sriracha ranch dressing.   
Chef Ned made one of the tails into two appetizers: Florida lobster tiradito with Fresno chili, cucumber and mango ponzu, and a lobster ceviche with tomato, red onion, cucumber and leche de Tigre.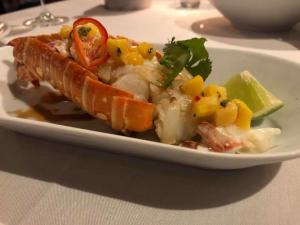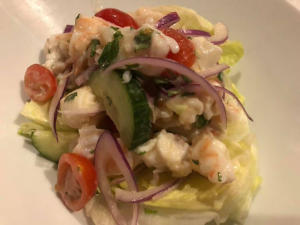 After sharing both of those appetizers, it was time for the two entrees: Lobster mac and cheese, langoustino and cheetos crumbs, and the second tail as butter poached lobster with whipped potato, ratatouille and tomato sauce viege.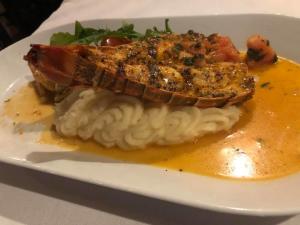 Pass the fork please…who knew spiny lobster tails could taste this good in a variety of different ways. The evening was an absolute delight, tantalizing our taste buds, while we spent a great evening together. Even if you can't do a Dive, Dock & Dine, you can always have Chef Ned prepare a great local seafood dinner.