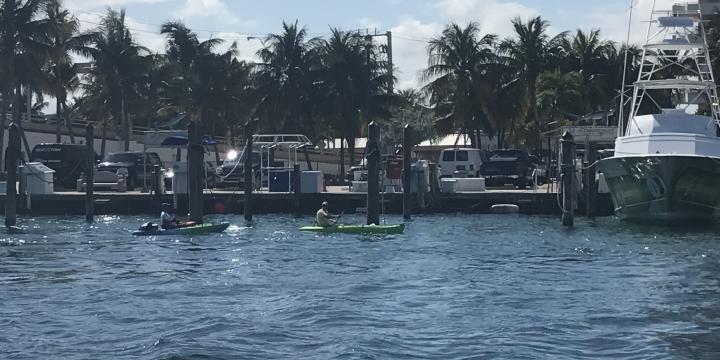 Underwater Report
8am-outside air temperature - 68 degrees, warming to 74 degrees by 10am. With low humidity and a mild east wind, this was a great diving and boating day in South Florida. 73-degree water temperature with 1-2 foot waves and a very mild south current with visibility of 40 feet.
Vessel & Crew
Private vessel-Chiefy (29' Sea Vee with twin Mercury Verados)
Crew-Andrew Rubin, John Strunk, and myself
Dive, Dive, Dive
We headed south toward the Hillsboro Inlet. Our first set of dives were off Anglers Pier in Lauderdale-by-the-Sea as John and I dove a small patch reef located in 40' of water. We grabbed a few spiny lobsters knowing this little spot has been productive all year for lobster. This is a "bounce" dive, where we jump in and then move to the next location, after grabbing the lobsters. We dove another spot in 65' of water that also had a few lobsters.
After we surfaced, Andy and I dove in an area near the Hillsboro Inlet, but north of the Pompano Pier. We caught a few more lobster to complete our limit of six per person and even speared a few nice hogfish to add to the fish box. Hogfish has great texture and a pure white filet, so it's a nice eating fish, especially if gotten fresh. A few hook and line fisherman will catch hogfish but it's primarily a fish gotten by spearfisherman.
We called it a day around noon with a limit of lobster and a couple of nice fish. Ending up near the Hillsboro Inlet was nice as it made a pleasant boat ride along the Intracoastal Waterway back to my dock in Deerfield Beach.
Another beautiful day in paradise on the Atlantic Ocean.