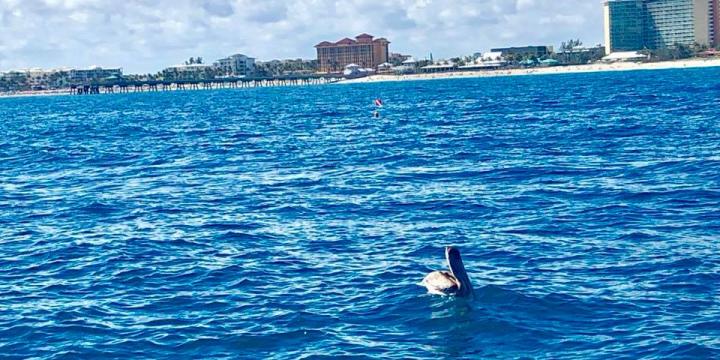 Underwater Report
8am-outside air temp-72 degrees, warmed to 80 by mid-day. The water temperature is still 73 degrees and we had 40-foot of visibility with a gentle north current.
Vessel & Crew
Private vessel-Sand Diver (39' Yellowfin with triple 300hp Yamahas)
Crew-Tom Campbell, Stephen Norris, Rebecca Mannen and myself with Bruce Paul and Angie driving.
Dive, Dive, Dive
Tom has used his boat in the past to assist Gumbo Limbo Nature Center to bring rehabbed and small turtles out into the ocean for their release. On one of those trips, Rebecca, a marine biologist, who works at the facility, expressed a desire to learn to catch spiny lobster.
Today, Tom partnered Rebecca with me to show her how to Catch the Bug…of course, she first had to get a copy of my second edition to review. Our first dive was in Deerfield Beach, on Separated Rocks, a series of small islands running north and south. We found lots of lobster, which is the first section of Catching the Bug, (1) Find the Lobster. As it's been since Hurricane Irma, we found lots of shorts. This gave Rebecca the opportunity to learn how to (2) Catch the Lobster, section two. She was using a snare, which she needed to retract the loop to tickle the lobster out of their hole, then open the loop around their tail to catch them.
It took her a few attempts but was soon catching her own lobster without any assistance. We reviewed how to measure them underwater, and if they're too small, they need to be released. If she got a legal sized bug, she put them in the lobster bag, backwards, as they move better using their strong tail. We use the "lobster hotel," where "the guests check in but don't check out."
Our second dive was the Hillsboro Ledge, which was more of the same. This area is a continuous small ledge, in 35 feet of water. There were lots of fish in this area and we witnessed a school of Sheepshead fish, but I refrained from spearing any of them, as we concentrated on catching lobster.
After returning to the dock, it was a lesson on how to clean the lobsters, so she could take the tails home to (3) Eat the Lobster, the third section of my book.
Overall, it was a great day learning to catch the bug and Rebecca was now addicted, the second meaning of my book. Once you learn to catch your own lobster, you're hooked for life!