"Black Migrations" is the theme for Black History Month 2019, and as one of the first Black journalists in Broward County and an oral historian on race relations I've enjoyed a bird's eye view of the transformation.
From desegregated schools and housing in the 1970s to African Americans with economic, social, and political influence. From the influx of transplants from other parts of the country in the 1980s to later waves of West Indians and Spanish-speakers of African descent. From divisive racial turmoil to the 21st century designation as one of the most diverse in the U.S. - and the destination of choice for Black travelers. In Broward County, history is a Diasporic experience.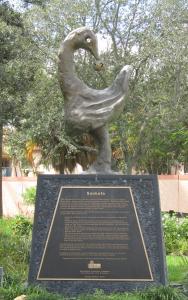 African roots are saluted at the entrance to the Sistrunk Corridor of Fort Lauderdale's oldest Black neighborhood, for instance. Visitors are greeted by a symbolic Sankofa sculpture saluting the memory of African American elders who helped found, shape, and maintain the community during hard times in its formative years.
This is also part of the emerging Destination Sistrunk Historical and Cultural District.  An innovative zone of projects is planned related to job training and  economic revitalization that will also promote historical preservation and the arts.
An historic marker has been installed at the Mount Hermon Church, the county's oldest continuing Black congregation, and other notable sites are being identified. Affordable housing complexes feature urban farms offering visitors opportunities for tours, and family reunions can plan multigenerational volunteer and service learning experiences while in town.
An outdoor performance venue dubbed "The Megaphone" presents micro-festivals with local talent and, at The Art House, a team of culturally-diverse professional artists offers hands-on classes, workshops, and special events at a renovated neighborhood residence.
Elsewhere in the county, the Von D. Mizell-Eula Johnson State Park, newly-renamed to honor legendary Black civil rights pioneers, is a popular recreational coastal attraction located in Dania Beach where Bahamian pioneers celebrate the heritage they share with their sister-community of Liberia in neighboring Hollywood. 
The suburban city of Miramar, which boasts one of the largest Caribbean communities in the county and the first Haitian-American commission member, will be the new home for the oldest African American sports organization, the American Tennis Association. Fundraising is underway for a tennis education and training facility and tennis museum to honor Black history in tennis.
The African American Research Library and Cultural Center offers a lineup of events in February as well as the area's network of colleges and universities as Broward County's diversity of cultures celebrate Black History Month.
~ Dr. Kitty Oliver