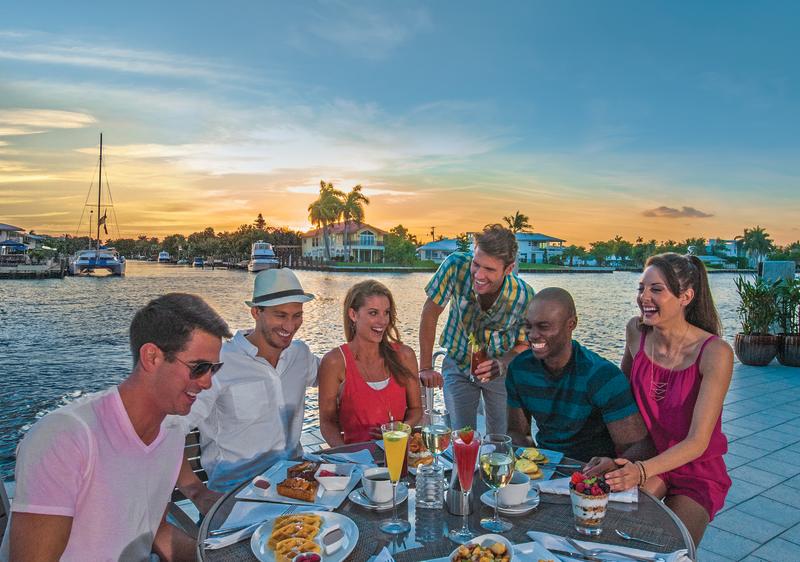 By Jennifer Riner, Trulia
You don't have to travel halfway across the world to try new cuisines and immerse your palette in fresh culture. But, depending on your current residence, you may want to head down to the Sunshine State for extensive eateries, complemented by ambiance and entertainment.
In a recent study, Trulia calculated restaurant quantity, frequency of dining out, restaurant distance and individual cuisine diversity scores across each major metro. Fort Lauderdale ranked eighth in the nation for dining variety, beating out culinary mecca New York City at no. 10 on the list.
Where are the best cities to dine in America?
San Francisco ranked no. 1 with 9.24 restaurants per square mile and 92 separate cuisines found in the metro area. The City by the Bay has the most restaurants per household in 14 varying cuisine types – letting locals easily opt for a new food experience every night of the week. 
At no. 8, Fort Lauderdale holds 2.74 restaurants per square mile and an impressive 74 distinct cuisines offered throughout the greater metro area. Fort Lauderdale is the elite spot for Caribbean cuisine, outranking all other U.S. cities with 2.33 restaurants per 10,000 households. Despite enticing restaurants and a vibrant culinary scene, Fort Lauderdale residents act smart with their money. Locals spend an average 86 cents per dollar in dining out compared to preparing home cooked meals with ingredients purchased at the grocery store.
When you do decide to venture outside of your culinary comfort zone, the legendary Fort Lauderdale waterfront is a good place to start. With picturesque views of boating, fishing and the massive Atlantic, feasting on the waterfront can't be beat. The world-renowned Bahia Cabana Restaurant and Bar on Harbor Drive allows dock-and-dine options for boat enthusiasts. With a large patio for mingling, tropical drinks and free live entertainment, Bahia Cabana is one of many local attractions that put Fort Lauderdale dining on the map.
Where to dine in Fort Lauderdale
With so many eateries and mouth-watering options in the "Venice of America," stepping outside of your preferred grab-and-go cafés is intimidating. Thankfully, Fort Lauderdale hosts a variety of food festivals throughout the year, helping long-time residents, newcomers and visitors partake in Fort Lauderdale's foodie culture.
The six-week Dine Out Lauderdale event runs through September 30 with over 36 participating restaurants. In the next few weeks, enjoy delectable three-course dinners at some of the city's leading restaurants for just $36 per person. Participants can also indulge in special lunches for just $16 at various eateries. 
Time is running short for Dine Out, but have no fear – the appetizing events continue after September's close. SOBEWFF, the South Beach Wine & Food Festival hosted by the Food Network and Cooking Channel, and the second annual Taste Fort Lauderdale event series are joining forces to feature well-known chefs, celebrities, cocktail parties, intimate dinners and brunches from February 22 to the 24.  
Next spring, wine fanatics and foodies can attend the Las Olas Wine and Food Festival, featuring local restaurateurs and internationally-recognized cooks. On April 28, the 30-year old Pompano Beach Seafood Festival will commence for a two-day experience filled with local seafood options, retailers and live music.
To keep tabs on the local culinary scene, download the Fork Lauderdale app for restaurant and nightlife insight year round.