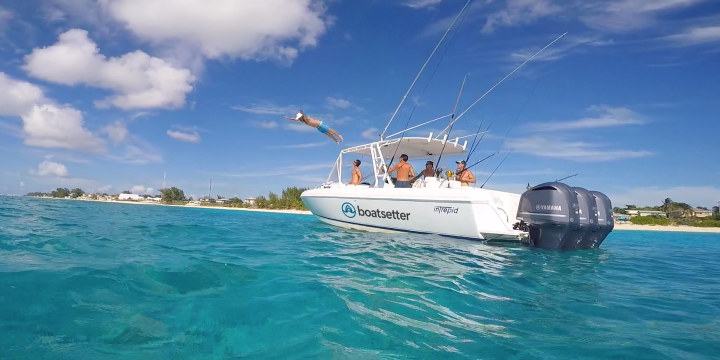 Whether you are visiting Fort Lauderdale from far off destinations or a local in serious need of a stay-cation, Fort Lauderdale is a vibrant place to visit! With miles of beaches, world-class dining and nightlife as well as the Everglades, the choices for fun are virtually limitless. One of the best ways to truly enjoy Fort Lauderdale is get out on the water. Boat rentals are now easier and better than ever with the rise of boat sharing. Boat sharing allows individual boat owners to seamlessly (and safely) "list" their boats for rent and those who want to enjoy time out on the water now have access to a boat to call their own for the duration of the rental.
Two easy steps will get you on your way to having an unforgettable time in South Florida through boat rentals:
Choose your adventure: Maybe it's off shore fishing, dockside dining or a sandbar party (or all of the above?). Of course, the boat's location, the number of passengers it holds and availability all factor in as well.
To include a captain or not to include a captain: That is the next question as you explore your boat rental experience is whether to include a captain or be your own. A licensed captain may be a great addition to your rental if:

You have no boating experience.
You have no knowledge of the local South Florida waterways.
You want to relax with no obligation.
The boat you chose is bigger or different than what you're used to.
You want a local to help you get to the best spots.
The Fort Lauderdale area offers unlimited on-the-water experiences from:
Dockside dining at hundreds of restaurants ranging from rustic to fine dining
Nature encounters in the mangroves and Everglades
Fort Lauderdale's famed Intracoastal, nicknamed the Venice of the Americas
World-class snorkeling with wrecks and reefs
Offshore fishing in the Atlantic with game fish like grouper, sailfish, tuna and more
Sandbar parties and festivities that  don't require an invite but do require a boat to get there
Sunsets that are truly best seen from the water
If you are in the Fort Lauderdale area (or a Laudy local), getting out on the water is imperative to truly experiencing the full view of this fun-loving part of the world. Creating your own private boat rental experience and heading out on Fort Lauderdale's waterways will take your stay here to the next level.
- Jen Seitz, Boatsetter
South Florida-based Boatsetter has led the boat sharing marketplace from its inception and offers one of the most unique models due its captain network. The option to include a licensed, knowledgeable captain in the boat rental means truly no experience is needed.