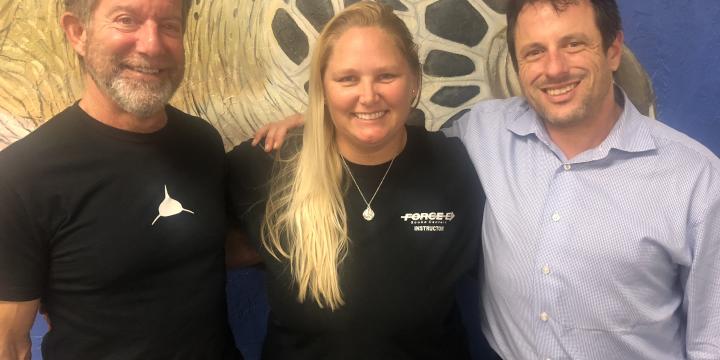 Tonight, was one of those "little nuggets" you find being tuned in to the local dive scene, bringing a tremendous amount of valuable information to divers. Force-E Dive Center force-e.com of Pompano Beach located at 1312 North Federal Highway hosted a Roundtable with the Dive Doctors.
Dr. Dan Grobman is a primary care sports medicine specialist with a specific interest in dive medicine and practices at Cleveland Clinic Florida in Weston. He is an Advanced Open Water diver with an Advanced Nitrox Certification including Decompression Sickness and listed as a Physician Provider with Divers Alert Network (DAN).
Dr. Gary Rose is a well-known local diver for over 40 years. He is a Physician and Associate Professor of Microbiology at the College of Medicine at Florida Atlantic University. He has a wealth of knowledge of the variety of microorganisms found in ocean waters and how to treat the many issues facing divers. Dr. Rose is a member of The Undersea and Hyperbaric Medical Society as well as DAN.
The format for the evening was primarily a question-and-answer session and it was interesting to listen to the discussion involving everything from the common, "how soon after diving can I fly?" to handling the unknown of nausea and vomiting underwater. Having access to dive doctors for an hour-and-a-half made the time fly, as the conversation was extremely informative for the 20 divers attending the workshop.
Diving is a physical sport requiring you to be in "dive shape" and Doctor Grobman emphasized the amount of exertion needed to dive underwater. He had a lot of tips including knowing your medical history and even discussed decompression sickness at great length. Doctor Rose focused specifically on what you would encounter as a diver and ways to deal with those issues.
Overall, it was time well spent and all were very thankful these types of seminars are provided free of charge by Force E dive shop in Pompano Beach. There's an abundance of things to do diving related in the Greater Fort Lauderdale area even when you can't dive.