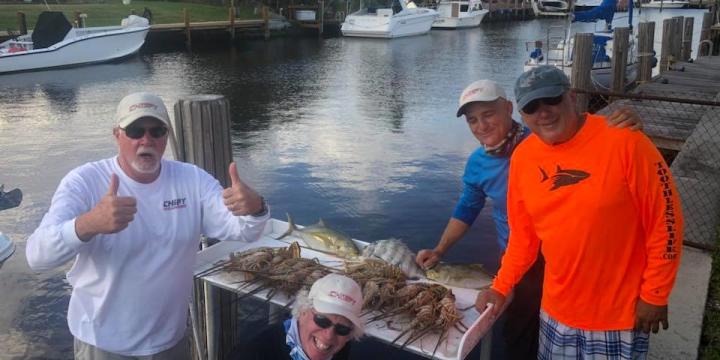 Underwater Report
8am-outside air temperature - 71 degrees, warming to 80 degrees by 10am. An east wind, 73-degree water temperature with seas two-three feet, a mild north current and visibility of 30 feet
Vessel & Crew
Private vessel-Chiefy (29' Sea Vee with twin 300 hp Mercury Verados)
Crew-Chuck Van Buskirk, Tom Campbell, Carmine Dilorenzo and myself, all members of the South Florida Spearfishing Club www.spearfishing.org .
Dive, Dive, Dive
The diving in January typically is linked to the weather patterns which bring cooler temperatures and stronger winds. When the cool front brings west or northwest winds, indicating the approaching cool front, the ocean is flat close to shore. Luckily, most of our diving is very close to our white, sandy beaches.
After the front passes, the winds will shift, first out of the northeast, bringing choppy surf, usually making it too rough to dive. But as the days pass, the wind shifts further to the southeast, returning the region to warmer, tropical weather and calmer seas.
Today was a little bumpy on the ocean with the wind out of the east, but we were still able to dive. During the "winter" in the greater Fort Lauderdale area, we watch the forecast to get an idea when we'll have an opportunity to dive. For the Chiefy crew, it was just great to get out and enjoy a winter dive day.
We stayed shallow along the second reef, finding clusters of spiny lobster. Most of our diving was concentrated off Hillsboro and Deerfield Beach. But probably the biggest find was the sighting of gag groupers in this shallow, 35-foot reef area by Tom and Chuck. At least ten nice sized gag groupers were congregating in this area, as it's spawning season. That's the primary reason why we're not allowed to harvest grouper from January 1st to April 30th. While we aren't going to have grouper for dinner tonight, it's really nice to be able to appreciate the efforts by the State of Florida to sustain the fishery.