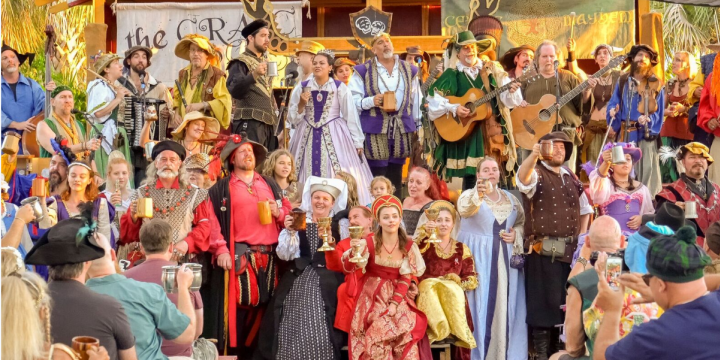 Broward County now ranks number three in the U.S. in Hispanic and Latino diversity. At least one of every four residents, native-born and immigrants, claims Spanish-speaking cultural descent.
Within that population you'll find the greatest diversity in Florida. It's a tasty blend: Generous helpings of South and Central American and Caribbean cultures from scores of homelands and adoptive countries, influenced by samplings of numerous other international sounds and flavors. That's why Greater Fort Lauderdale is such a unique experience for visitors, especially multicultural travelers.
Few people have had a frontline view of four decades of growth and cultural blending like Hispanic producer Bobby Rodriguez. He moved from performer to director of his much-celebrated Latin Jazz Orchestra that has become a major musical force on tour as well as locally. He also founded the Florida Renaissance Festival 27 years ago. The annual event, which returns to Quiet Waters Park in February and March, has become one of Broward's biggest tourism events, drawing over 100,000 patrons a year. Rodriguez currently serves on the GFLCVB's Marketing Advisory Committee.
His partnership with the CVB goes back more than two decades to development of the county's first Hispanic festival, Viva Broward, with El Heraldo De Broward publisher Elaine Vasquez. The two will be working with a new CVB Multicultural Business Development outreach that starts Jan. 16 when more than 25 local Hispanic organizational leaders will be hosted for a strategy meeting.
Emulating successful efforts with African American and Caribbean groups that have resulted in making the area the destination of choice for visits and meetings for those groups, the CVB is inviting Hispanics to know about ways to enhance tourism for national and local organizations.
"We want to work on expanding communication to Hispanic and Latino communities to get them involved in tourism," Rodriguez said. "I have been blessed to work here for 40 years in this area and I'm interested in helping with outreach and unification in thinking about tourism and the CVB so I'm volunteering to help."