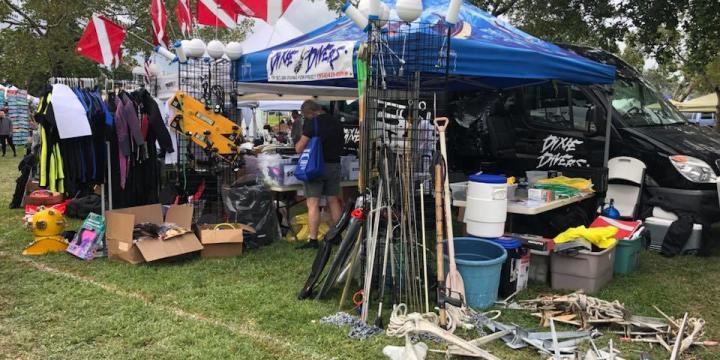 The 28th Annual Lighthouse Point/Pompano Beach Nautical Flea Market was held on Saturday and Sunday, January 20th and 21st at the Pompano Community Park. It never disappoints folks looking for that nautical treasure. Started at Dan Witt Park in Lighthouse Point with just a few vendors, it moved many years ago to it's present location. However, this is the first time it's been sold out, with over 200 vendors filling up 360 booths.
The entrance fee is very reasonable at $5, with free admission for kids 12 and under. The weather was spectacular with a nice breeze out of the northeast and the crowds were large with 10,000 folks in attendance at this two-acre site. The beer was flowing, with the smell of smoked BBQ and grilled Italian Sausages filling the air.
This was my 6th year participating with Arilton Pavan, owner of Dixie Divers in Deerfield Beach. Pavan sells a variety of mostly new dive gear, but I'm cleaning out my garage of used gear. For me, it's a chance to get rid of the old so I can buy some new equipment.
The vendors were selling everything nautical, new and old, including boats, antiques, anchors, art work and jewelry. There's always a lot of haggling on the price, but folks were buying, and vendors were selling. What makes this flea market so good, is the number of locals participating, as we catch up on seeing old friends and making some new ones. It is a must-attend event for those nautical minded-folks looking for treasures.