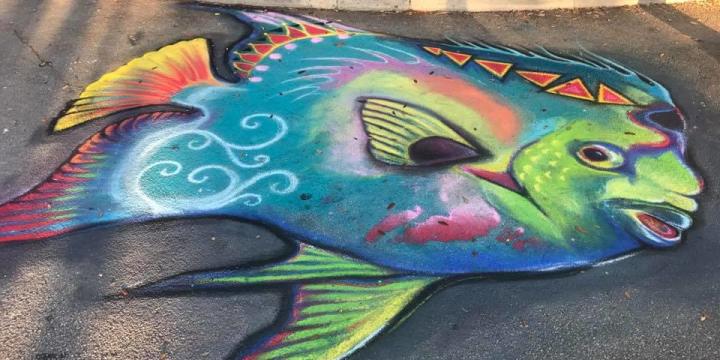 The 27th Annual Lighthouse Point/Pompano Nautical Flea Market took place January 21 & 22. It started at Dan Witt Park in Lighthouse Point as a small civic event, but this two-day event has found a permanent home at the Community Park in Pompano Beach. With more than 300 vendors, there were a large assortment of new and used nautical treasures. If you're a boater, fisherman, diver or a water enthusiast, this was the place to be.
Attendance was great as the weather was in the low 80's with a mild breeze from the west, making the conditions ideal for this outdoor event. The smell of grilled Italian sausage was in the air and the beer was flowing as this event takes on a festive atmosphere. It's where neighbors and friends buy and sell eachother's marine stuff, making this nautical flea market a very local event.
I was also a vendor, sharing a booth with Dixie Divers from Deerfield Beach. Owner Arilton Pavan sold an assortment of dive equipment, but the big seller was a new type of snorkel mask. It's a full-face mask with the dry snorkel with a one-way valve protruding out of the top. You don't have to place the snorkel in your mouth and with the full-mask design, there's no fogging and offers a wider view.
My nautical treasure best sellers were anchors, a large assortment the Chiefy crew found this past year from diving. Removing these from the reef is a great way of keeping the reef pristine and putting cash in our pockets. I'd call that a win-win.
Next year's Nautical Flea Market is scheduled for January 20-21, 2018, so you may want to include a visit in your schedule. This is the perfect time of year to mix in a little sand, sun and spending on a variety of nautical treasures.