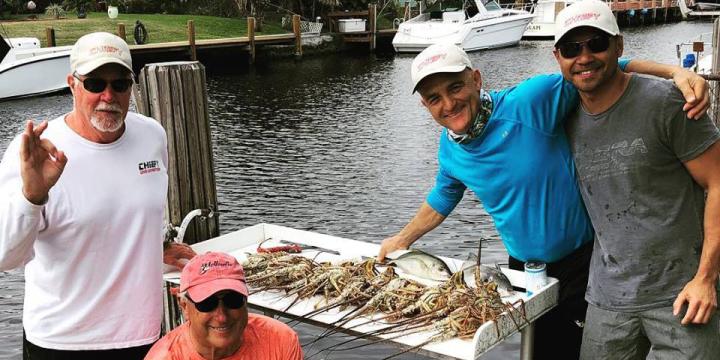 Underwater Report
8am-outside air temperature - 70 degrees, warming to 77 degrees by 10am. A southeast wind, 73-degree water temperature with one-foot seas, a mild north current and visibility of 40 feet.
Vessel & Crew
Private vessel-Chiefy (29' Sea Vee with twin 300 hp Mercury Verados)
Crew-Tom Campbell, Carmine Dilorenzo and myself. We added Eric Tatoy as a new Chiefy crew member today.
Dive, Dive, Dive
It's always an ideal situation if we have four divers on my boat, so today we extended an invitation to Eric Tatoy. Having four divers allows two divers to be in the water, while the other two drive my boat, as we always drift dive. Then we switch spots, giving everyone the opportunity to rotate into the water. It's important to have divers that also know how to operate a boat as part of the crew. We identified Eric as a potential crew member, as he's a very experienced diver and a good spearfisherman. When he asked how to be a Chiefy crew member, he seemed to already know the answer…" Bring Good Beer." Word is getting around!
Eric and Carmine buddied up together which allowed Tom and I to dive together. The conditions this January have been remarkably similar, so it was just a matter of getting the crew together today.
We stayed in the shallow second reef off Deerfield Beach, which are a cluster of islands running north and south. It's only 35-feet of water, so it's a relative easy dive, grabbing a few spiny lobsters as we drift over areas of soft and hard corals. Even though this area is shallow, because of the reef providing structure, there's plenty of marine life.
Besides adding a new Chiefy crew member, today we had more of the same January diving in the Greater Fort Lauderdale area. We look forward to Eric being a regular Chiefy crew member if he brings good beer.