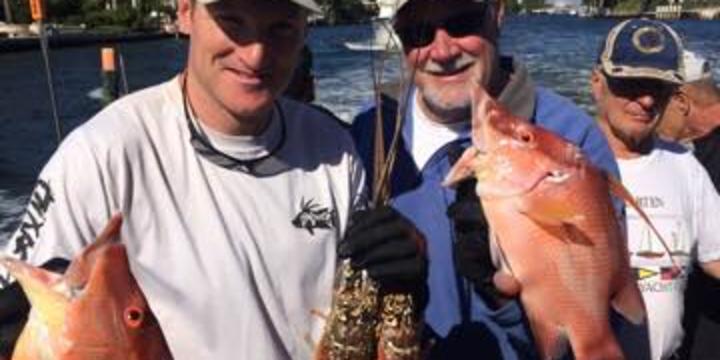 Underwater Report
Boarded the boat at 8:30am at Marina One in Deerfield Beach with an outside air temp of 72 degrees. The outside air warmed to 84 degrees by mid-morning with the water temp of 77 degrees. Not a bad day for January!
Vessel & Crew
Commercial Dive Charter-Lady Go Diver-46' Newton dive boat.
Crew-Captain Will and Divemaster Jason along with 19 divers. There were two members of the South Florida Divers, a dive club based out of Fort Lauderdale. Met some divers from Toronto and New Jersey who were so happy to be diving in our tropical paradise. Having the boat located in Deerfield Beach is perfect, as there is a choice of two ocean access inlets.
Dive, Dive, Dive
Chuck, Ben and I dove together on a 15-foot west-facing wall called Sally's reef. This is part of the third reef predominately found off the Greater Fort Lauderdale area. The structure holds a lot of fish as the top of this wall is in 50 feet of water with the vertical drop to 65 feet in the sand. Primarily holding large schools of juvenile reef fish including grunts, spade fish, snapper and trigger fish. These fish are very colorful and abundant, making the dive spectacular. There is a mixture of hard and soft corals with some small outcroppings of reef west of the wall. The visibility was 30 foot on the first dive with a north drift but improved to 50 foot on the second dive with a south drift.
However, at the end of the second dive, we saw a huge Goliath Grouper, over 8-foot-long and probably at least 500 pounds. It was about ten feet off the sand, adjacent to the southern end of the reef. This was the biggest grouper any of us had ever seen in our many years of diving and it just stayed around for a little while, slowly moving away after a few minutes … once again, an awesome sight to be seen in beautiful South Florida.
#hellosunny #chiefycrew # goliathgrouper #lobster #spearfishing #dixiedivers #ladygodiver